Transfers
'Arsenal were tracking Thauvin' – Gunners scout Grimandi reveals former interest in Marseille star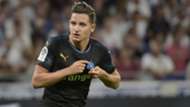 Arsenal scout Gilles Grimandi has revealed that Arsenal tried to sign Florian Thauvin in the formative stages of his career, and he says that if they had managed, the Frenchman would now be a first-team regular.
The Marseille attacker has starred since returning to France following an unsuccessful spell at Newcastle, and has progressed so far that he was a member of the World Cup-winning squad in the summer, albeit one who featured only for a minute.
Nevertheless, Grimandi believes that had the Gunners signed him as a youngster, when he was still playing with Bastia, he would have become a hit at the Emirates Stadium.
"Arsenal were scouting him when he was at Bastia and we were following him closely at the time," he admitted to L'Equipe. "After he moved, he wasn't at the same level.
"Today, at Arsenal, he would play."
"He's starting to score in big games, he's rarely injured, and while I found him unpredictable a couple years ago, he's not much more efficient. I didn't think he could reach that level.
"When he was in Chateauroux's youth system, no big club wanted him. Mentally, he's a true champion. 
"Personally, I've doubts over his physique. He has work-rate but lacks power."
Despite his broadly encouraging words, Grimandi does not see anyone gambling on him in the near future.
"He'll be 26 soon, so his hopes to play for a top club are very limited," he said. "The fact that he doesn't play with the France team, even if he's in the squad, is a problem. It reinforces some of the doubts over him. Dimitri Payet has a stronger rating than him."
Thauvin has enjoyed an exceptional start to the Ligue 1 season, having scored six times and created two more in the opening seven matches of the campaign, during which his Marseille team's level has fluctuated greatly. 
On Sunday, he will hope to lead them to a positive result against Lille, with a victory guaranteed to lift them to second in the Ligue 1 standings ahead of Saint-Etienne and Marseille.