Arsenal
Arsenal forward Iwobi questions 'impatient' fans calling for Wenger exit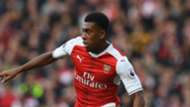 Alex Iwobi has branded Arsenal supporters calling for Arsene Wenger's head as "impatient" and urged them to show the Frenchman "more respect".
The under-fire Gunners boss has seen calls for him to stand down at the end of the season intensify amid a testing run of results.
'Wenger has final word on his future'
Struggles on the field have heightened the unrest in the stands, with certain sections of a disgruntled fan base taking to the streets and sky with their protests against the current coaching regime.
Wenger, though, has remained dignified throughout and attempted to steer clear of further fanning the fans by announcing a decision on his future.
He has, however, admitted to having made a call, as his current contract at Emirates Stadium runs down.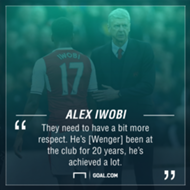 Iwobi believes the long-serving manager should now be given space in which to do his job, with the actions of a minority doing little to aid the greater collective cause.
He told the Daily Mail: "They need to have a bit more respect, in my opinion.
"I mean, he's been at the club for 20 years, he's achieved a lot, obviously they're a bit impatient with the results and where they want to finish.
"We also want to finish there, we want to win the league like anyone else. I can guarantee we are trying our hardest.
"Whatever happens we are the players, we affect the result. We don't really look at the banners or what fans are screaming, we focus on trying to do our jobs on the pitch."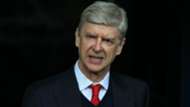 Iwobi insists Wenger is yet to make his players aware of where he will be working next season, but a man given his big break in the Premier League by the 67-year-old is hoping to see him stay put.
The Nigeria international added: "Honestly, I'm waiting as much as you guys are. I don't know exactly what's going on. But me, personally, I'd like him to stay.
"No matter who is in the job, or who gets the role, we're always going to fight for the manager, every player always gives 100 per cent, no matter what, we'll just play.
"He always backs our players and he is a great man. He's been great to me as well, I'll always back him, no matter what.
"For what he's done for me, I'd like to say thank you, for bringing me into such a world-class team, and I'm playing almost regularly."