Arabian Gulf League
Arabian Gulf League follows Premier League, La Liga and Serie A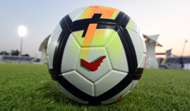 The Pro League Committee have unveiled the new official ball of the 2017/18 Arabian Gulf League.
Ordem V supplied by PLC partners Nike in yellow and orange has been approved.
The new ball was engineered by Nike with a unique construction that ensures pressure distribution evenly across the ball as well as enhanced traction and ball control for the players.
Nike's improved design provides a faster and more stable flight for the ball while distinct colours and graphics printed on to the surface using 3D ink help players and viewers alike see the ball quicker and track it more clearly.
Ordem V is also the official ball for top leagues in the world for the 2017/18 season.
The Premier League, La Liga and Serie A have all announced Nike Ordem V as their official ball.
Pro League Committee unveiled the new official ball of the 2017/18 Arabian Gulf League, the Nike Ordem V @nikefootball @NikeFootballME pic.twitter.com/OUD5fxYLph

— Arabian Gulf League (@AGLeague) September 13, 2017