Portugal
Andre Gomes, Renato Sanches, Joao Mario - Are €180m of Portuguese talent struggling to justify their worth?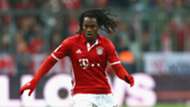 ---
COMMENT
---
Andre Gomes, Renato Sanches, Joao Mario - €180m of Portuguese talent struggling to justify their worth (Renato Sanchez: €35m, potentially rising to €80m, Andre Gomes: €35m, potentially rising to €55m, Joao Mario: €40m, potentially rising to €45m).
In securing their first ever major international title last summer, Portugal showed they have a group of bright young players set to enjoy excellent careers at club and international level.
Although Cristiano Ronaldo was the star of the team, young midfield trio Andre Gomes, Renato Sanches and Joao Mario also had key roles in the Euro 2016 triumph and boosted their already glowing reputations.
Ancelotti: Sanches going nowhere
They immediately benefited from their new-found stature, making big moves shortly afterwards. Gomes, in the first-team until injury limited him after the group stage, joined Barcelona; Bayern Munich beat Manchester United to Sanches after emerging as a midfielder with maturity beyond his years; and Joao Mario joined Inter.
However, each of them are in troubling times at this point in the season for different reasons. Gomes has been written off as a waste of money, Sanches is struggling for playing time and Joao Mario has recently dropped out of the first-team.
Gomes was set to join Real Madrid until Barca jumped in and snapped him up in a mystifying move. Although a good midfielder, he was not the kind of player Luis Enrique's side needed, nor is he of the level required.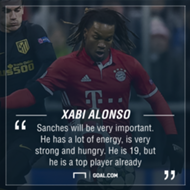 The 23-year-old still features for the Catalan side, starting 12 of the 21 league games he has played, but his influence is minimal – he has scored one goal and provided one assist. He offers no creativity going forward, little cover defensively and isn't helped by the fact that Barca have won nine of the 10 games he has missed. The fans are so disgruntled already that Gerard Pique has had to come out to defend him from their whistles and there is a growing feeling his place in the team is already at risk.
Sanches seems to be a simpler case. He has strength, skill and good passing ability but at 19 it is too much to demand that he slot immediately into one of the world's strongest teams. He was injured when he arrived and had a nervy start, since being limited to just 21 first-team appearances and failing to score or get an assist.
When games are close Carlo Ancelotti is reluctant to use him, but it is clear Bayern believe in a player they moved quickly to beat Manchester United to sign. With Xabi Alonso retiring, his time in the starting XI will come.
Rummenigge: Sanches to replace Alonso
"We hope Renato Sanches follows in Alonso's footsteps - that's why we signed him," said Karl-Heinz Rummenigge. "He has all the necessary qualities, but we will have to be patient with him."
Alonso himself has been impressed, saying: "He'll be a very important player. He has a lot of energy, is very strong and hungry. Hungry to win every title. His age doesn't matter. He is 19, but he is ready. He is a top player already."
Joao Mario, meanwhile, has recently had cause for concern.
An ambitious Inter had to pay a big sum to beat Chelsea and Liverpool to him. But after a bright debut in Serie A, his form dipped as the Nerazzurri struggled under Frank de Boer.
Though his performances improved, another indifferent run coinciding with tactical adjustments from new coach Stefano Pioli have led to him being dropped in recent weeks. After two cameo appearances in the 5-1 and 7-1 thrashings of Cagliari and Atalanta, he was left on the bench for the entirety of last week's 2-2 draw with Torino. Pioli has found his starting XI, it seems, and it does not include the midfielder.
He will get a chance to regain his spot in the first-team. He has been vital for Inter at times. He has three goals and four assists in the league, is one of their most creative players and puts in defensive work when played in central midfield.
His recent struggles have prompted questions over his future, but he says he is happy in Milan but admits he is still adapting to a new country and new style of play.
"Serie A is very difficult from a tactical point of view," he said. "I was not expecting Italian football to be so aggressive. In training, I tried to improve physically because there is so many challenges in the match.
"I'm still young and try to improve every day. I feel I've developed since the Euros because I'm playing in a very competitive league, a higher level than the Portuguese league and this has helped me become more complete."
Though the trio seem to be having rough patches, there seems to be no reason to worry.
Gomes wants total Barca success
Gomes is in the most precarious position as it will take something special to reverse the opinion of those who have turned against him. He is out of his depth, but still playing alongside the best in the world, which can only help. Crucially, he has the belief of Luis Enrique who sees someone capable of filling in for Sergio Busquets when needed, but if next season's coach is not convinced, he could be in trouble. Contracted to Barca until 2021, it will be tough for any potential suitors to get him out of his deal, but at 23 he can find a good level.
Sanches and Joao Mario, on the other hand, have greater potential than Gomes and they will get over their struggles.
The Bayern youngster is clearly a special talent and one capable of becoming vital to Bayern in the coming years. That he has looked shaky at times this season and had little influence means little for such a youthful but vibrant midfielder.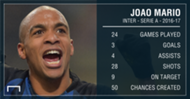 "It's a new language, new country, new club, and he's very young," Ancelotti said. "We need to be patient with him, the second half of the season will be better for him."
Unlike Ancelotti predicted, the turn of the year has brought no great fortunes for Sanches thus far, but they will eventually.
Joao Mario is in an even stronger position – he adds something to Inter and there is no reason to believe the 24-year-old will flop there.
I'm trying to get Ronaldo to Inter - Joao Mario
Predictions from former Barcelona and Portugal stars labelling him the ideal replacement for Andres Iniesta may set unwelcome expectations, but it is no surprise his compatriots are excited about him.
Of the three, Sanches is the only player who has seen his role limited in the national team since their successful summer. Gomes and Joao Mario have still kept their place throughout the 2018 World Cup qualifiers so far and it is hard to imagine Fernando Santos losing faith in them despite their club issues. 
This campaign might not have gone as well as the three champions of Europe might have hoped, but their story is not over yet.