United States
Americans Abroad: Pulisic 'ready to make another step' in career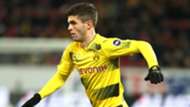 An award. A game-winning goal. It was a very good week for Christian Pulisic, but as is often the case for the teenager, the end product is just a means for a new beginning.
It was a week that saw Pulisic get a pair of starts under new Dortmund manager Peter Stoger, win the United States Men's Soccer Player of the Year award and, to cap it off, deliver the decisive finish to net his club three points against a man who might be his manager in the future. 
The goal Saturday against Hoffenheim was a moment of class from Pulisic as he burst into the area in the 89th minute to latch onto a Shinji Kagawa pass. With a deft touch, he flicked the ball into the air and out of the path of the on-rushing goalkeeper, avoided a collision and then knocked home the shot with his other foot.
The goal gave Dortmund a 2-1 win over Hoffenheim, both endearing himself to Stoger and putting on a show for rumored Dortmund managerial candidate Julian Nagelsmann, all while keeping the club third in the table.
"It was a super feeling. We fought until the end," Pulisic told BVBtotal! after the game. "It's always a very nice feeling to score a goal in front of the South Stand.
"We've had a few difficult weeks. Now we've won twice in the space of two games. That gives us a lot of self-confidence. It's really good to feel the support of the fans again. It's always super to win at home."
PULISIC WINS IT!

A magical touch and finish from the USMNT Player of the Year gives Dortmund the winner in the 89th minute! https://t.co/4tNrjPTTMZ

— FOX Soccer (@FOXSoccer) December 16, 2017
It was a strong finish to the week after Pulisic, 19, took home the U.S. Player of the Year award, becoming the youngest player to ever win it, surpassing Landon Donovan. But while Pulisic was honored to win, he thinks it can be a springboard for something greater.
"It's amazing, something I'm very proud of,"Pulisic told Bundesliga.com. "It's been a crazy journey. I can't wait to see what's going to happen in the next few months. I'm just really excited about starting the new year. I think I'm ready to make another step, and hopefully some success will come with that."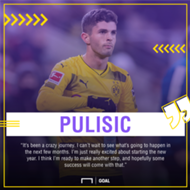 It has been a bittersweet last few months for Pulisic as his own star has risen while his teams have struggled and disappointed. But while nothing can be done about the U.S. national team's failure in the short term, Dortmund has the second half of the Bundesliga season to look forward to. And though the club is out of the Champions League, it can still win a trophy in the Europa League.
In the short-term, Pulisic can close out the calendar year on a high note if Dortmund can pull the upset against Bayern Munich in the DFB-Pokal on Wednesday. A victory there would give the club something else to shoot for in the second half and be another step in rebuilding confidence under Stoger after the struggles under former boss Peter Bosz.
---
BROOKS INJURED AGAIN FOR WOLFSBURG
---
One of the surprises Saturday was the absence of John Brooks from Wolfsburg's lineup with the defender not making the trip to face winless Cologne in Bundesliga action. That match turned into a mess for Wolfsburg as it fell 1-0 to the current Bundesliga bottom-feeders, giving the hosts their first victory of the season.
As it turned out, Brooks was sidelined with an injury once again, along with fellow defender Felix Uduokhai. Reports indicate the two are back in running training but their status for Wolfsburg DFB-Pokal clash with 2.Bundesliga side Nurnberg will come down to how they look in Monday's training session.
The Bundesliga itself has gone on winter break after this weekend's games, so the Pokal match Tuesday would be the last for Brooks for nearly a month, offering plenty of time to get healed. But with Wolfsburg enduring a mediocre season to this point, success in the Pokal would likely be a welcome thing.
It will be worth watching to see if Brooks can get himself fit in time for the match or if the next time he'll suit up for Wolfsburg will be after the new year.
And Brooks isn't the only American who could use the Bundesliga winter break to recuperate. Bobby Wood missed Hamburg's two games this week as he continues to battle a knee injury. With no Pokal match for Hamburg, Wood will definitely not be seen until the Bundesliga starts up again.
Likewise, Fabian Johnson has been absent as of late for Borussia Monchengladbach with back problems. Gladbach has a big Pokal showdown with Bayer Leverkusen on Wednesday, but Johnson's status for that match is anything but guaranteed as the 30-year-old midfielder has not played since Nov. 25 against Bayern Munich.
One American who has returned is Timmy Chandler. The fullback assisted on both Eintracht Frankfurt goals midweek in a win over Hamburg. He went 90 minutes in his return and while he did not start the weekend match against Schalke, he ended up coming on before the end of the first half and went the rest of the way. 
---
AMERICANS STRUGGLING TO GET INTO MATCHDAY SQUADS
---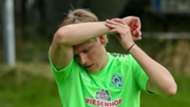 While there are plenty of success stories these days of Americans becoming important pieces of good teams in top leagues, not all of the situations are rosy.
Plenty of players are finding their playing time limited, if they are actually seeing the bench at all.
One such American is Emerson Hyndman, who seemed poised for a big opportunity with Bournemouth this season after lighting up the Scottish Premiership last year on a short-term loan with Rangers. Unfortunately, for the second year in a row, Hyndman picked up an injury that limited his preseason and has struggled to break into the side since.
The 21-year-old midfielder has one appearance this year — a cameo in the Carabao Cup. That he can't even get a look on the bench for a team winless in its last six Premier League games is not a good sign for where he currently stands. With the January window coming, it will be interesting of Hyndman gets another short-term move or if he looks for an exit.
But Hyndman is not alone in his struggles for playing time.
In the 2.Bundesliga, Haji Wright, on loan from Schalke at Sandhausen, has not started a match since Oct. 22. Relegated to the bench, he hasn't been in a match since Dec. 2, and hasn't been in the last few game day squads. Fellow teenager McKinzie Gaines has been nowhere near the 18 since his poor outing Oct. 20 in a start against Fortuna Dusseldorf.
Meanwhile in the Eredivisie, a pair of Americans play for Excelsior. But you could be forgiven for not knowing — fullback Desevio Payne hasn't played for the first team since a substitute appearance on Nov. 4. Yet, at least he has played this year. Defender Shane O'Neill has managed a total of three minutes this season for Excelsior, all coming in the KNVB Beker.
And that says nothing the highest-profile American who can't get game action — Aron Johannsson. He made a rare appearance in the 18 this weekend, but did not play and has managed four Bundesliga minutes for Werder Bremen all season.
With the January window coming up, it will be worth watching to see if some of these Americans secure themselves moves elsewhere in hopes of getting some more playing time.
---
AMERICAN-ELIGIBLE FORWARD NETS HAT TRICK
---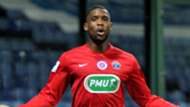 The best day for an American abroad this weekend came in Ligue 2, where 21-year-old Theoson-Jordan Siebatcheu striker bagged a hat trick for Reims in a 5-1 win over Valenciennes.
The hat trick brought his goal total in the league to nine in 18 appearances, a nice rate of return, though Siebatcheu broke a bit of a duck as he had not scored in league since Oct. 28.
And perhaps more importantly, it was three more points for Reims as it marches toward promotion back to Ligue 1. The club now sits on 44 points at the top of Ligue 2, seven ahead of its nearest rival. Should Siebatcheu and his teammates keep it up, he'll get his shot to prove himself in France's top division next year.
Internationally, while previously stating he would be interested in representing the United States, the Washington D.C.-born Siebatcheu has represented France on the youth levels, with two games played for the country's Under-21 side this past June. He is also eligible for Cameroon.
Obviously, the road from France's youth international side to the full senior team is a long one, especially considering the impressive young players the nation has pushing for first team spots.
But with no World Cup for the United States or Cameroon, there's no incentive for Siebatcheu to suddenly change his allegiance. Consider him someone to keep an eye on, and not a certain future member of the U.S. national team just yet.