Allianz Junior Football Camp: 9 talented kids to train with Bayern Munich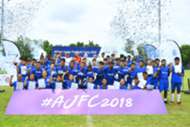 Nine young footballers will represent Asia at the Allianz Junior Football Camp in Munich next month after successfully completing the regional camp in Bangkok, Thailand, this week. 
A total of 57 youngsters, aged between 14-16, were involved in the camp at Bangkok, having selected from the country events in China, Indonesia, Laos, Malaysia, Philippines, Taiwan, Thailand, Singapore and Sri Lanka. Former Bayern Munich player Carsten Lakies was also involved in the camp. 
The chosen nine will have a chance to develop their games and learn new skills under the tutelage of FC Bayern coaches in Munich. They will also get to meet some of the team's best football players and watch them live in action at Allianz Arena – FC Bayern's home stadium.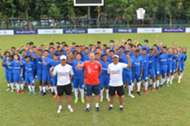 This was the first time that Allianz's annual camp was held in Thailand, with last year's edition being hosted by Indonesia. 
Bryan Smith, President and CEO, Allianz Ayudhya Assurance PCL, said, "Allianz has been running this program for 10 years and making many young children's dreams a reality. We know they enhanced their football skills at the camp but I hope the teenagers also learnt much more about teamwork, collaboration and have taken the opportunity to enjoy a wonderful experience and have built valuable friendships. This is a once-in-a-lifetime opportunity and it's our pleasure to host such an inspiring event for the first time in Bangkok."
The Allianz Junior Football Camp is part of the global financial services company's long-term partnership with FC Bayern.
"We all have something in common - a love for football – and I'm delighted to have seen this enthusiasm throughout the four-day camp and wish all the best to everyone who took part," Lakies said.