Minerva Punjab
AIFF suspend Minerva Punjab owner Ranjit Bajaj for racial abuse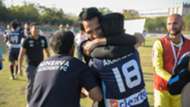 The All India Football Federation (AIFF) has slapped a one-year ban and a hefty fine of Rs 10 Lakh on Minerva Punjab owner Ranjit Bajaj after he was found guilty of making racist remarks against a referee.
The incident happened during the U-18 Youth League playoff match between Minerva Punjab and Aizawl FC that ended 1-1 at the JLN Stadium in Shillong on May 12. According to the disciplinary committee chaired by Ushanath Banerjee, Bajaj hurled racial comments and abuses against the referee Pynskhemhame Mawthoh.
"The Committee holds Bajaj guilty of committing serious gross acts of infringements and imposes with a sanction of suspension of 12 months," the disciplinary committee announced, as reported by PTI. The suspension means that Bajaj can't enter the stadium or take part in football-related activities for tournaments conducted by the AIFF.
The club owner has also been fined Rs 10 Lakh and has 10 days to pay the fine. "In default of which, suspension and the ban shall continue for the delayed period over and above 12 months, till payment in full," said AIFF disciplinary committee said in the report. 
"Bajaj acted like a criminal indulging in series of hooliganism, abusing the match officials in filthy languages, threatening them openly, making racist remarks against the Match Officials. Certainly, none of these can be equated with an educated guardian of a sports club," the report added.
Ranjit Bajaj has denied the charges and Minerva Punjab director and co-owner Henna Singh has hit out at the decision through social media. 
When the powers that be can't take the thought of @Minerva_AFC winning its fourth title this season and there are vested interests to disrupt the success of a small but compelling club which is shaking up their foundations, they find ingenious ways to put a spoke in your wheel

— Henna Singh (@Hennasing) May 14, 2018
The statement by the AIFF Disciplinary Committee reads, "The AIFF Disciplinary Committee after examining the evidences placed on record before it, found the concerned senior official of Minerva Punjab Football Club,guilty of committing serious gross acts of infringements and imposed a sanction of suspension for a period of twelve months under Article 58, read with Articles 41, 50, 54, 59.1(a) and 60 of the AIFF Disciplinary Code, upon the said official and further banned the officialunder Article 23 of the AIFF Disciplinary Code with regards to any tournaments held, organised by or under the aegis of AIFF, during the period of suspension.
"In addition, the Committee also inflicted a fine of Rupees Ten Lakhs upon the concerned official, citing the provisions of Articles 54, 58 & 59.1(a) read with Article 78(d) & 50.2 of the Code, which the guilty official is required to pay within a period of 10 (ten) days from the date of communication of the Committee's decision."