Aguerooooooooooooo – Kun rises above the pressure to secure dramatic Premier League title win
It was all fading away. Manchester City were supposed to be cruising to their first league title in 44 years.
But instead a shocked home crowd looked on as they blew a lead at home to 10-man relegation candidates QPR.
As Jamie Mackie gave the visitors a shock lead, cross-town rivals United were champions for the second time that afternoon.
It was crunch time – City needed a knight in shining, sky blue armour. They would eventually find one, in the most dramatic of ends to a Premier League season.
Sergio Aguero's performance that day scored big on the Goal Pressure Index, presented by Sure and powered by Opta data, which is an innovative and unique player-rating system to identify and reward players for outstanding performance in pressure situations.
Using more than 750,000 data points and considering influences such as league position, time of season and opposition, our unique algorithm calculates performance under pressure to give every Premier League player a weekly score out of 100.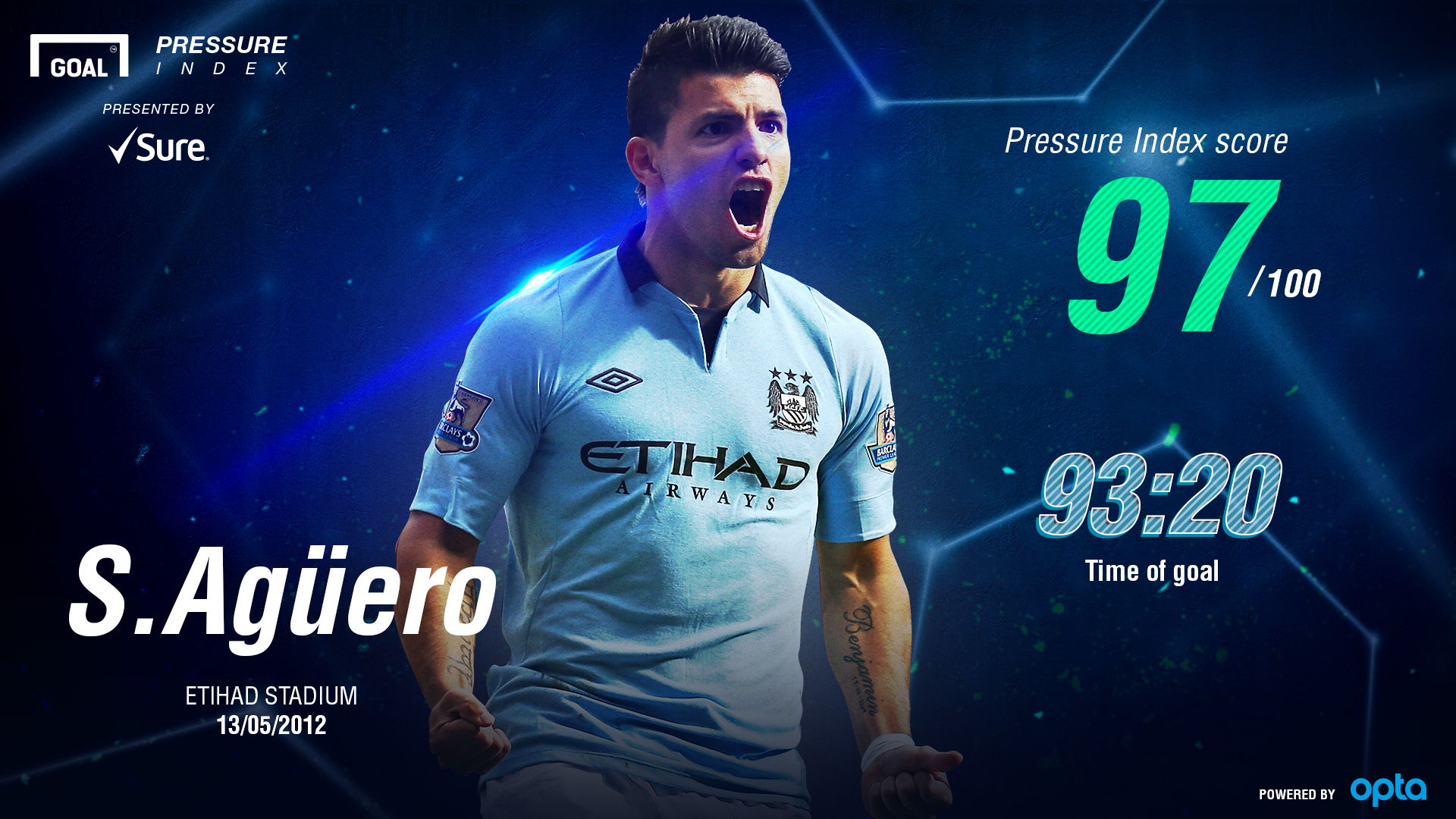 It was everything the club had worked towards, the pot of gold at the end of the rainbow that had been constructed at almost unprecedented levels of investment.
For so long the bridesmaids, forced to watch on as the red half of the Manchester dominated the Premier League era, City were supposed to finally graduate from 'noisy neighbours' to all-conquering English champions.
But as the game ticked into injury time, Roberto Mancini's side needed to score twice. It was backs to the wall as City streamed forward again.
Edin Dzeko pulled one back as the game ticked into the 92nd minute, towering to power home his header from yet another David Silva corner. QPR were spent, they restarted the game by just thumping the ball out for a goal kick.
And as the final whistle went at Bolton, where United had sealed victory, it all came down to this.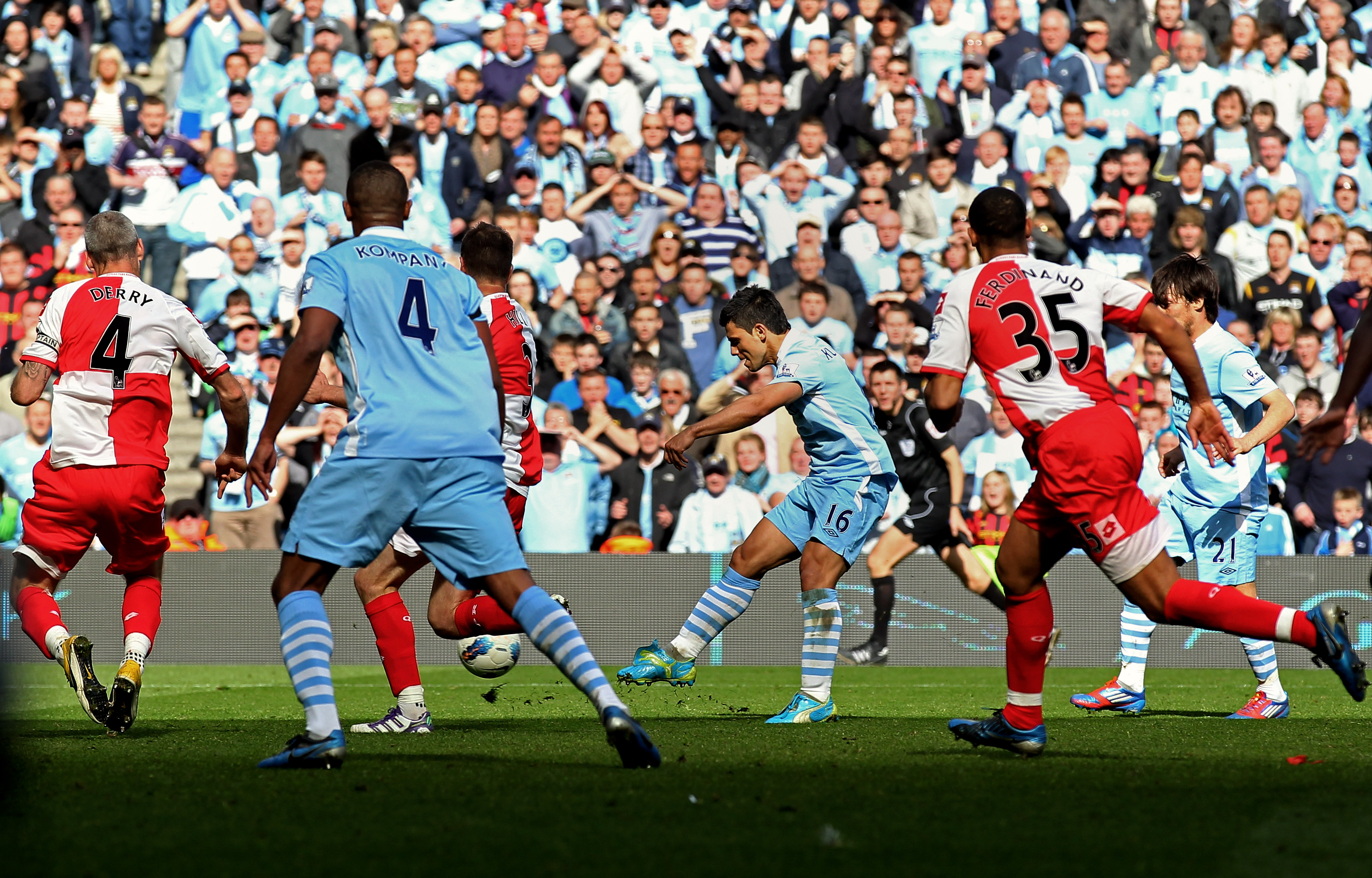 The game looked up when Samir Nasri mistakenly let the ball roll out for a QPR throw. In the stands, fans kicked seats, collapsed in frustration, overwhelmed by the emotion of it all.
City had dominated from the first minute. They'd had 19 corners. They'd pelted the QPR goal with 34 shots. And as the game rolled into the fifth minute of stoppage time, there would be time for just one more.
Balotelli received the ball back-to-goal, but it ran away from him as he turned. The Italian dived, though, stretching to nudge the ball on.
And in came Aguero. He feinted, and pulled the trigger. It flew in past Rob Green. The net bulged, Aguero ran for the stands. Everyone else gave chase. Mancini ran for the pitch. They'd done it. Right at the death.
Aguero's performance was worth a very impressive 97/100 on the Goal Pressure Index.
The Goal Pressure Index is presented by Sure, Official Partner of Chelsea FC, Everton FC and Southampton FC