Ghana
Africa did not bow to Europe - Nyantakyi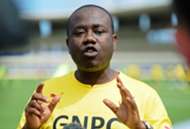 First vice president of Caf, Kwesi Nyantakyi says his outfit did not do the bidding of Europe by the latest rescheduling of the Africa Cup of Nations tournament.
Last week, Caf Executive Committee passed a resolution to move the championship from its usual January/February date to June/July.
With the Afcon drawing players from all around the world, many, particularly major European leagues, have been unhappy with having to lose players for about three weeks midway through the season every two years.
"Where is the dictation?" Nyantakyi asked in an interview with KweseESPN.
"Europe is the most influential football continent in the world because they have the most leagues and employ players from all around the world.
"They have a point of view to express, but it is not binding on us. We have not followed Europe sheepishly.
"The interest of Africa is the driving motivation behind these changes."
Many believe the reform will put to bed the usual club-vs-country player battles that usually accompany the Afcon.
"I think those of us from countries like Ghana [and] Nigeria will agree that this is the best for us because many times in the past we have lost players because they are worried about spending a long time away," Nyantakyi added.
"Teams like Manchester United have been reluctant to sign African players in the past because [Sir Alex] Ferguson knew he would lose them at some stage during the season.
"This time, the European clubs know that they will have access to their players throughout the season.
"It is a big advantage for Africa because it will enhance the commercial benefits for the players.
"It is a win-win for both of us. This narrow argument that it will favour Europe is neither here nor there."
The new resolution commences from the 2019 tournament to be hosted by Cameroon.