India U16
AFC U16 Championship: Indonesia coach Fachry Husaini - India have a very good defence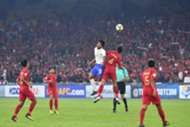 Indonesia U16 head coach Fachry Husaini was all praise for India U16 team's defensive organisation after the two teams played out a 0-0 draw in the final group game of the AFC U16 Championship. 
The result saw both teams qualify for the quarter-finals. Husaini, while acknowledging the efforts of Bibiano Fernandes' charges, stated that it was Indonesia who were the dominant force in the game.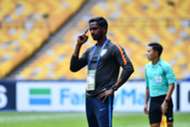 "First of all, it was important to go through the next round. I have already told the boys that we need to play 360 minutes of good football," he said after the game.
"We have done it in the first 270 minutes and we are still waiting for the next 90 minutes. I am very proud that even though we did not win tonight, we dominated the game.
"It is good that we have been in good form as it is intrinsic if we have to achieve our target."
The 53-year-old was then questioned about the distinct lack of efforts on goal from his team despite dominating possession, to which he replied that they were up against a good defence. 
"Yes, we discussed it (lack of shots on goal) with the boys in the locker room during the first-half. But I want to appreciate the efforts of the boys as India has a very good defence."