Other Competition Matches
Adepoju commends Super Eagles for reaching Wafu Cup semis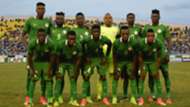 Mutiu Adepoju has hailed the Super Eagles for qualifying for the semi-final of the 2017 Wafu Cup and has charged them not to relent until they emerge as winners.
Yusuf Salisu's men after their draw against Mali and Guinea defeated Ghana 2-0 courtesy of goals from Anthony Okpotu and Peter Eneji in Cape Coast.
According to La Liga Nigeria chief, the Eagles must not to be carried away by their victory over the Black Stars, but must stay focused to lift the title.
"I want to say congratulations to the Eagles for their win over Ghana. It was not just a win but we were able to claim another bragging right against our west African brothers," Adepoju told Goal.
"I was unable to watch the match but the fact that they won 2-0 showed they have woken up and can only get better in their subsequent games.
"I want to charge the team to still stay grounded and not be carried away by this win. They need to prepare very well for their semi final game with the conviction that they can win it and qualify for the final.
"This competition is a good way to test the preparedness of the Eagles for the CHAN in January next year and the way they beat Ghana showed their preparation for that competition is in top gear."
Fox Sports holds exclusive rights to the 2017 Wafu Cup of Nations .