AFC U23 Championship
Action may be taken against no-show Syafiq Ahmad for team's sake - OKS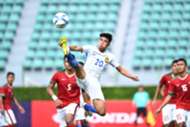 ---
BY        ZULHILMI ZAINAL       Follow on Twitter
---
Kedah striker Syafiq Ahmad failed to turn up for his first day at Malaysia U23's training camp for the 2018 AFC U23 Championship, on Monday.
The forward had been allowed to attend head coach Dato' Ong Kim Swee's camp one week later than his Young Tigers teammates in order to get married, but he failed to turn up to the Malaysian FA (FAM) headquarters, Kelana Jaya on the agreed date, December 4 Monday.
"Syafiq Ahmad has yet to report for duty and I am still waiting for him to contact us. I was informed that his wedding ceremony was held yesterday.
"Afterwards, he was scheduled to come here and had no plan to go for a honeymoon, but so far there has been no news of him," revealed Ong to the press just before conducting training on Monday.
When asked whether any action will be taken against the 22-year old player, Ong responded that it will be discussed with FAM, and that should any action be taken, it will be done for the good of the team.
"I haven't thought of any action, my concern is that if any of the players were to be away for an extended time when the rest of the team have been training, it would be difficult to work on their fitness in a short time.
"I will discuss this matter with the management before deciding on the proper course of action. If he continues to be absent and fails to contact us, action will be taken soon for the good of the team," he remarked.
However, the other player who had been allowed to arrive on Monday; defender Matthew Davies arrived as scheduled. The right back had been undergoing recovery for an injury back in his native Perth, Australia since the 2017 M-League season ended.
"Matt is still injured and has to continue undergoing the same recovery method that he had gone through back in Australia. He will follow the prescribed training process, under the guidance of our physiotherapist and trainers.
"I believe that he will fully recover in a matter of days, and will then be able to train with the rest of the team," said the former Malaysia senior head coach.