FA Cup
Abu Bakar Fadzim extremely proud of his young PKNP team after heroic FA Cup exploits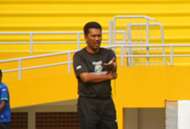 ---
 BY       OOI KIN FAI      Follow on Twitter
---
Abu Bakar Fadzim was smilling from ear to ear after his young charges upset the odds to beat highly-fancied Kelantan in the FA Cup second round match played at Perak Stadium on Tuesday night. The PKNP FC head coach guided his team to 1-1 draw atter extra time before eventually defeating the 2013 champions 4-3 on penalty shoot-out.
Speaking at the post-match conference, the former Perak player was justifiably pleased with his players as they overcome their nerves to more than match at team in a division higher than them. Kelantan could have no complaints about the result as they struggled to cope with the intensity shown by the home side.
"We are very happy with the penalty win. The players fought all the way today despite playing favourites Kelantan."
"I'll like to praise my players for fighting throughout the 120 minutes and that with only two import players after 70th minute. We wanted to increase the speed by bringing on Deevan.
"It's their first time playing in such an atmosphere. I hope we can go further in the competition," said a happy Abu Bakar.
The shoot-out itself was dramatic in its own right as the advantage went from being in favour of Kelantan to PKNP. After G. Mugenthirran missed the first spot kick of the night, it looked like PKNP were going to miss their chance to create history. Fahdli Idris was the other PKNP player who failed to put away his penalty kick.
However, parity was soon restored when more Asyraaf Omar produced two outstanding stops to deny Mohamad Ghaddar and Margoro Gomis to keep PKNP in contention. With the score tied at 3-3 after five spot kicks, it went into sudden death but Abu Bakar had already sensed that his young keeper's confidence was shooting up.
"When we play knock-out, we can't take it easy. The players like Mugenthirran and Fadhli looks nervous but it paid out at the end."
"Well done to Asyraaf. He got confident after saving two. It's his first time saving penalties at this level too," explained Abu Bakar.
Earlier PKNP came out flying from the traps from the opening whistle as they hounded and pressed Kelantan intensely. That seemed to unsettle the away side and PKNP were able to capitalise on their discomfort by taking the lead through Mugenthirran. Abu Bakar was understandably pleased that his team followed his instructions.
"I looked at their [Kelantan] videos. We cannot follow their tempo and they have players who can control the game. So I told my players to pressure high to test how they would react and I'm pleased it worked out," added Abu Bakar.
PKNP FC will now go into the draw on Sunday to decide who their 3rd Round opponent in the FA Cup is going to be.