Abia Warriors
Abia Warriors coach Emmanuel Deutsch reveals masterplan to Kano Pillars' fall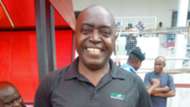 Deliberate changes in Abia Warriors' tactical orientation won them Wednesday's 2018 Federation Cup duel against Kano Pillars, reveals coach Emmanuel Deutsch.
Going into the second matchday of the competition's Round of 16, the Uchendu Boys were rooted to the bottom of Group C after falling to a 5-1 thrashing at the hands of a 'mobile' Kwara United; a game they finished with nine men.
And their Cameroonian handler reveals that some tweaks and strategies - ranging from a shift in defensive organisation to stifling Sai Masu Gida attacking midfielder and legend Rabiu Ali - were all required to secure a come-from-behind victory over the former Nigeria Professional Football League champions.
 
"Whenever I come to the pitch I come to win a match. No matter the time I concede," Deutsch told Goal.
"[In this game] it was after 44 minutes but I was certain we'd still win the match because Kano Pillars came from behind to win Rivers United 3-2 why can't we do the same thing?
 
"They don't have four legs, they have two legs as we do. I gave my players confidence, psyche them.
 
"What I did was that the first I was playing with a flat defence, my defenders played very flat. Now, I have to change the strategy," he continued.
"I changed it to allow them play more of the tactics I taught them in training because the first match they did not play what I taught them and that was the problem but now they understand that the Federation Cup is not like the league.
 
"In the league, I went on some unbeaten runs because my team doesn't concede goals anyhow but [on Monday] it was a disaster.
 
"The referee was also part of my team losing as we played nine against 11 Kwara players that are mobile. I take it in good faith as I cannot accuse anybody.
"Now, we won. That's competition and competition is about winning and losing.
 
"Kano Pillars have Rabiu Ali who is a very good player and if you catch Rabiu Ali and disturb the midfield you will win Kano Pillars.
"I caught them from the midfield, I know they are very, very strong.
"They have the defence and you see when I read the game I knew I had to bring in players that are very agile because the experience, Pillars have good experience and I had to bring in players like Okoro Amos and I know that he finished the game.
"I'm very satisfied," he concluded.
With the impressive Kwara already through to the quarterfinal, a victory over Rivers United in the final group game and an unfavourable result for Pillars in their clash with the Harmony Boys is all that is needed to completely turn a poor start on its head, with another last-16 slot up for grabs.