J1 League
A new wind blowing into J League from Southeast Asia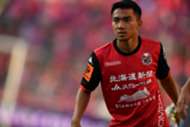 On July 29, 2017, in Sapporo Dome, 33353 people attended a match between Hokkaido Consadole, a team which made their way back to the J1 league for the first time in 5 years, and Urawa Reds, one of the big clubs in Asia.
Of course, people were looking forward to how the only J1 club in Hokkaido will play against Urawa but there was another point to focus upon.  Extremely popular in his native country and dubbed Thailand's Messi", Chanathip Songkrasin, a Thailand National Team member, made his debut in this game. 30,000 Thailand flags were given out at the stadium's entrance gate for this event. It was an amazing sight to see numerous Thai flags being waved along with Sapporo and Urawa flags and towel scarfs.
Chanathip was brilliant in his debut. Even with his small stature, he had a skilful touch and a powerful dribble and feints that can leave his opponents bewildered. In the past, there weren't any Southeast Asian players who have succeeded in J1. However, even in his J1 debut match, 158 cm tall Thailand attacker baffled the Urawa players and the crowd got excited a number of times. An incredible debut that showcased the skills of Thai player.
Nowadays, not only Chanathip but we also hear names of Southeast Asian players in J League, such as Jakkit Wachpirom, who marked the first goal by a Thailand player in J3 Round 34, J3 Kagoshima United FC's midfielder Sittichok Paso and Cambodia National Team member and J3 Fujieda MYFC forward Chan Vathanaka, aka "Cambodia's Messi". However, the history of J League and Southeast Asian countries do not go way back.
It all started in 2013. A popular Vietnamese National team player Lê Công Vinh, dubbed "Vietnam's Hero", joined Sapporo which was in J2 at the time. Although Vinh was transferred during the middle of the season, he made his presence known with high-quality skills and a tough mentality. He was a pioneer that showed that Southeast Asian players are good enough to play in J League.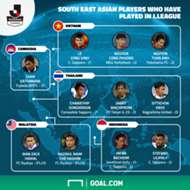 After that, the relationship between Southeast Asia and J League has deepened. Backed by Vinh's successful performance, J League established a new system "J League Affiliated Country Player Registration Rule" which allows players from J League affiliated countries to register without limits, outside of the ordinary Foreign Player Registration Rule (Three Foreign Players plus one AFC member nation player). With this new system, increasing numbers of clubs showed a positive response to acquiring talents from Southeast Asian countries such as Vietnam, Thailand, and Indonesia.
In 2014, Ventforet Kofu acquired Indonesian National team player Irfan Haarys Bachdim (was transferred to Sapporo the following year). In 2016, a popular Vietnamese player Nguyễn Quốc Cường joined Mito Hollyhock. In addition, Indonesian Stefano Lilipaly played for Sapporo in 2014, and Cerezo Osaka has partnered with Bangkok Glass in Thailand League and holds camps in Thailand every year or have invited young players from Bangkok Glass to their practices. So, the distance between J League and Asian countries has drastically reduced during the past few years.
We can see its influence even outside of the football field. During the season when Vinh joined Sapporo, there were many occasions where we would see Vietnamese people attending the games. A Vietnamese man, after one of the matches, said "I was happy to see Vinh play up close. But I was much more excited by how entertaining it is to attend a football match. It was my first time, and I didn't realize how fun it is." And with a smile on his face, he clapped to the club anthem sung by supporters sitting inside the stadium behind the goal.
Chanathip, who joined Sapporo, has also brought in a breath of new wind. Recently, tourists from Thailand who visit Hokkaido have increased and we frequently see Thai people visit Sapporo club's practice field to see Chanathip. They put on a big smile when they take pictures with the footballer after his practice. In their native country, he is such a famous figure that you don't get a chance to get close to him, but at the Sapporo field, people get to have casual communication with Chanathip, so you can say that it's a special place for Thai tourists. And now, at the restaurant in Sapporo Dome where the matches are held, Gapao Rice has been added to their menu.
In addition, after Chanathip's transfer in July, Thai media have sent correspondents to Japan. They rent an apartment near the practice field, and journalists and cameramen earnestly cover his story and send news scripts, photos, and videos to their home country. On some days, the press room had more Thai media than Japanese. Sapporo City turns quite cold all a sudden after autumn. It must be tough for Thai media staff who come from the warmer Thailand but it is amazing how passionate they are in telling the stories of "Thailand's Messi."
After Chanathip's great performance, there has been coverage on transfers of Thailand players to J League, such as Teerasil (Muangthong United FC) or DF Theerathon (Muangthong United FC). We may frequently see Thai players play against each other in J League in the near future. Or we may even have multiple Thai members in one club some day. Japanese football industry needs to watch out.