Zinédine Zidane
A job for Wenger? Twitter reacts to Zidane's shock Real Madrid exit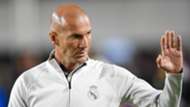 Zinedine Zidane's announcement that he will leave Real Madrid caught the football world by surprise on Thursday.
The Frenchman held a press conference to deliver the shock news less than a week after making history as the first coach to win three consecutive Champions League titles.
A legendary midfielder for Juventus, Real Madrid and France in a glittering playing career, his reputation has blossomed even further since replacing Carlo Ancelotti at the helm of the Santiago Bernabeu side.
The tributes to the icon came flooding in after his decision was made, with many Real Madrid players and fans expressing the same kind of disappointment that was evident in president Florentino Perez's expression as he sat beside Zidane at the press conference.
As a player and coach you decided to say goodbye at the top. Thank you for two and a half incredible years. Your legacy will never be erased, one of the most successful chapters in the history of our beloved @realmadrid pic.twitter.com/dO6bw74aA3

— Sergio Ramos (@SergioRamos) May 31, 2018
Gracias Mister! It's been a pleasure! pic.twitter.com/99VzaBxUoV

— Toni Kroos (@ToniKroos) May 31, 2018
Ha sido un auténtico placer jugar a tus órdenes, mister. Leyenda como jugador, y ahora también lo eres como entrenador. Ha sido un honor aprender y ganar a tu lado. Te deseo lo mejor. Gracias y hasta pronto👏👏👏🔝🔝🔝 pic.twitter.com/Pxx133jlgI

— Lucas Vázquez (@Lucasvazquez91) May 31, 2018
No tengo palabras para agradecerte todo lo que has hecho por este vestuario, por el Real Madrid y por el madridismo. Ha sido un orgullo y un privilegio tener como entrenador a mi ídolo. Eterno Zizou. pic.twitter.com/wjK45SMQz7

— Casemiro (@Casemiro) May 31, 2018
#Zidane Simplemente darte las gracias por estos 2 años y medio como nuestro entrenador, has sido un profesional increíble al igual que todo tu staff.
He aprendido muchísimo como jugador y persona a tus órdenes, te deseo lo mejor y de nuevo #GraciasZidane #GraciasZizou pic.twitter.com/5wlLGmn5G0

— Dani Carvajal Ramos (@DaniCarvajal92) May 31, 2018
"Hello? Mr. Wenger? I have a job for you…" #RealMadrid #Zidane pic.twitter.com/Ja9z5zurgg

— Currys PC World (@curryspcworld) May 31, 2018
Gracias mister por todo lo que me has hecho vivir estos 2 años y medio. Tu entrega por tus jugadores y el club siempre fue lo mas importante para ti, y por eso eres un referente para todos. GraZZias por todo y suerte en el futuro!! pic.twitter.com/ZoMlBOw13n

— Nacho Fernández (@nachofi1990) May 31, 2018
Mister Zizou. He aprendido muchísimo a tu lado!
He disfrutado como un niño a cada entrenamiento, a cada consejo!
Eres muy especial para mi!
Has hecho historia con tu trabajo, tu dedicación, pasión y sobretodo con tu humildad!
Gracias Mister #marchelin 😭 pic.twitter.com/MvWCwjYSqR

— Marcelotwelve (@MarceloM12) May 31, 2018
Félicitations Zinedine pour tout ce que tu as apporté au @realmadrid . On te souhaite le meilleur pour la suite de ta carrière. pic.twitter.com/VALCBjliLO

— FCGirondins Bordeaux (@girondins) May 31, 2018
Get you someone who would miss you like Florentino would miss Zidane pic.twitter.com/BXjY8zt2HC

— Chemical Brother 👌 (@chemicalbroda) May 31, 2018
Zidane magical pass to Cristiano during training.

We will never see it again 💔 pic.twitter.com/CP0CCzB5Ct

— Zeeshan⁷ (@FinishRonaldo) May 31, 2018