The Young Socceroos have claimed the AFF U19 Championship after a stunning 5-1 win over Thailand in the final in Vietnam.
Steve Kuzmanovski scored a brace for Australia, while skipper George Blackwood, Keanu Baccus and Joseph Champness all found the target as Ufuk Talay's side cruised to victory, reaping revenge after a 5-1 loss to Thailand in the group stages.
Talay's squad secured Australia's fourth title at the AFF U19 Championship and first since 2010.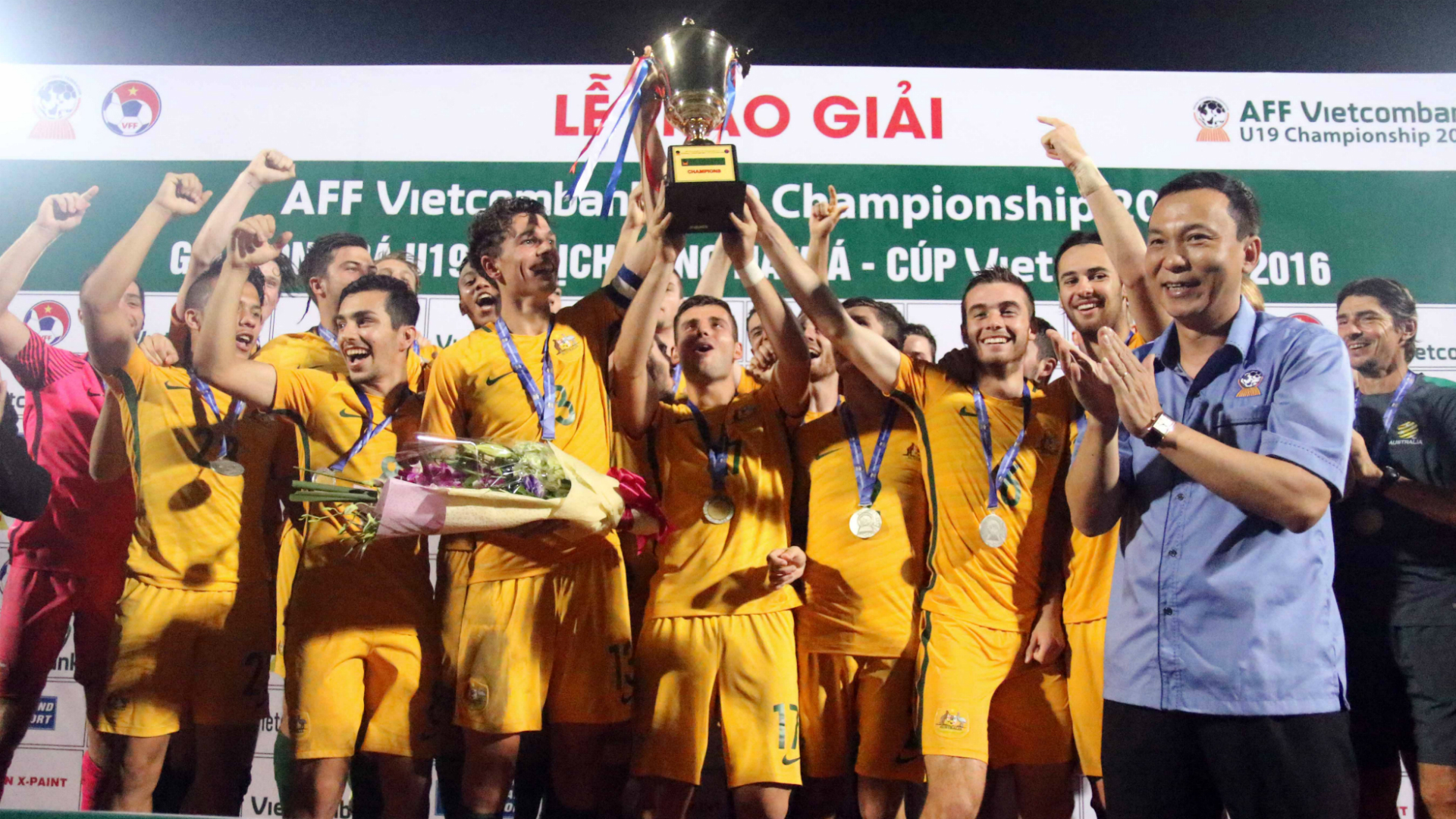 "There's no easy games. Thailand is a good team. We set up a little bit differently from the first time we played them in the group stage," Talay said afterwards.
"We created a lot of opportunities in the first half. I think we could have been up 6-0 at half-time but we didn't convert.
"I think the boys were very disciplined when we didn't have the ball. Overall, I thought it was a good game for us.
"For us, to come to the AFF [tournament] it was very important to get quality games.
"We got seven quality games. It was very important to not focus on the result but focus on the performance leading into Bahrain [and the AFC U-19 Championships]."
Australia stormed out of the blocks in the opening half with Baccus finding the target with a header in just the 10th minute after a lovely corner from Connor O'Toole.
Kuzmanovski doubled the advantage less than 10 minutes later with the Melbourne City attacker calmly slotting home after a well-weighted cross from Champness.
Australia continued to create a number of opportunities but some wasteful finishing and some excellent saves from Thailand's goalkeeper kept the score at 2-0 at the interval.
The floodgates opened after half-time, however, with Australia netting three goals in six second-half minutes to kill off the contest.
Blackwood slotted Australia's third goal in the 67th minute after being picked out by Baccus before Champness profited from a Thailand mistake to make it 4-0 just three minutes later.
Kuzmanovski completed his brace in the 73rd minute to make it 5-0, with Australia punishing their opponents on the counterattack after Thailand committed numbers forward.
Thailand scored in second-half stoppage time via Jakkit Wakkpirom.