By Ben Lyttleton
Maybe Cristiano Ronaldo knew all along just how good he would become. That's one explanation for the obsessive hoarding of all his trophies and accolades – a collection that now has a use and a home, since Museu CR7, the Ronaldo Museum, opened on the island of Madeira 15 months ago.
There are over 140 trophies in the museum, ranging from the ridiculous – one says, 'The World's Best Football Player 2007. Fans from Czech Republic' and another is Player of the Year award voted by Manchester United Supporters' Club in Cyprus – to the sublime: now three Ballons D'Or have their home there, as well as over 30 match balls, taken by Ronaldo after every hat-trick he has scored.
And while the brainchild for Museu CR7 was Ronaldo's brother Hugo, who was fed up of tripping over football memorabilia at Cristiano's €7m Madrid mansion in La Finca, the fact Ronaldo had kept everything made the decision to produce a museum – and not a nightclub or restaurant as initially planned – a smart one. There is a €5 entrance fee and the museum had 10,000 visitors in its first month.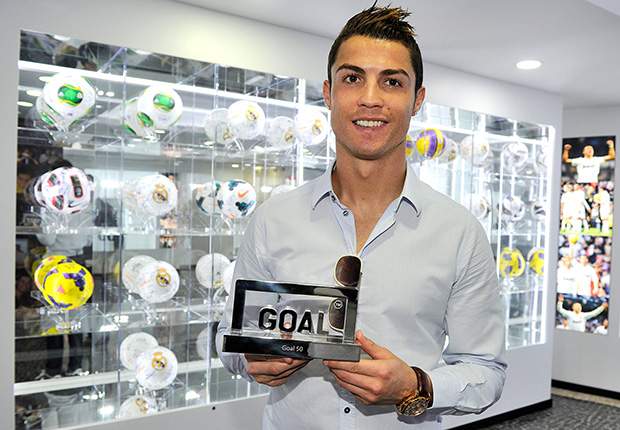 One more for the mantelpiece | Cristiano Ronaldo adds the Goal 50 award to the collection at his museum
The gift shop does a roaring trade where branded magnets, mugs, keyrings and ashtrays sit alongside CR7 T-shirts (€29 for adults, €19 for kids). Down the road in Funchal is the CR7 boutique, run by Ronaldo's sister Elma, which stocks blingy belts, party dresses and, of course, CR7 underwear.
But the memory of the early days remains an important part of Ronaldo's mythology: it's been reported that he still has his first car, a Seat Ibiza, along with 18 other ones, including a black Lamborghini Aventador and a Bugatti Veyron.
Ronaldo's property portfolio includes an apartment in Lisbon, a luxury house in Funchal, a villa in Moita and a summer house in Gerês, inside Santo Estêvão, a natural park in the north of Portugal. He has also invested money in a resort in Porto Santo, an island of the archipelago of Madeira.
The role of Ronaldo's agent Jorge Mendes in creating this fortune should not be underestimated. Mendes had total belief in Ronaldo but even he might have been surprised at just how valuable he's become.
After the first time Ronaldo won the Ballon D'Or in 2008, Mendes warned the best was yet to come.
"Cristiano Ronaldo is a genius and he's the one who knocks down barriers, because there are no limits to his professionalism and ambition," Mendes told
Record
newspaper at the time. "He knows exactly what he wants, and all he wants is more and more, to be even better. He doesn't let himself become bothered by compliments or upset by criticism. He's the first to know that he can't live in the past and he's aware that the future is the only thing that matters, just like his determination to achieve new goals.
"But none of this came about by accident. Cristiano Ronaldo has been, since he was a little boy, a perfectionist, a professional that incessantly looked to develop, to learn, to improve. Maybe only in 10 years will some people respect him and give him due recognition, but I'm sure he will win it more times - simply because he's better than the others."
Around that time, Mendes was doing something no other agent was doing as well in the field of representation: he was managing the image of his clients. When he first explored the market, there was no tradition to it: no football coach had ever endorsed a watch company, for example. But Mendes was adamant that matching the biggest players in the world to the biggest brands could work.
And it did. Here's an example: in a recent campaign for TAG Heuer watches, Ronaldo posted six pieces on Facebook which over two days received 34.9 million views and 2.4 million likes. The interactions, according to sports marketing specialist Pierre Emmanuel Davin, were worth €300,000 to TAG.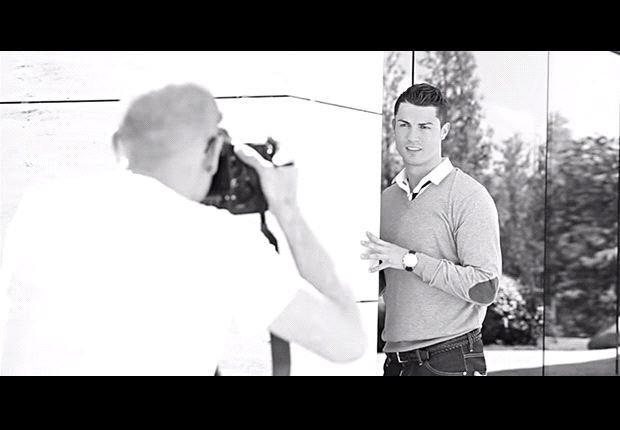 Capturing a moment in time | The Portuguese poses for the TAG Heuer watch campaign
Luis Correia is Ronaldo's social media manager at Gestifute: "If all Cristiano's social media fans held hands – and there are 155 million of them - they would go around the world four times. He has more followers than CNN and the New York Times combined, and more than Manchester United and Chelsea combined. This shows the power of the star. Today's market is star-driven."
That's also shown by the brands that affiliate with Ronaldo. With the exception of KFC, all represent health, performance and quality. As Davin put it to
France Football
: "He is the personification of inspirational luxury."
Goncalo Lopes, a Portuguese journalist for
Diario de Noticias
, added: "Every company that pays Ronaldo gets more for his association than they pay. He is worth it."
Ronaldo turned 30 last month and the money-making is showing no signs of slowing down. Across the world, he has a recognition rate of 92 per cent and 86 per cent of them think he is a good ambassador.
"Ronaldo is the main ambassador for Portugal's image abroad," museum manager Nuno Mendes told
The Independent
last year.
For Correia, the future is already being plotted. Ronaldo is Beckham 2.0.
"His legacy comes from what he has done on pitch and clubs he has played for," Correia explained at the International Football Arena in Berlin. "So after Ronaldo retires, he will have a strong brand attached to his name. The strategy is simple: to promote this brand while he's on top of his game so when he retires, the brand is established in the market. David Beckham opened the way for this and there is even more potential for Ronaldo now."
The rich are about to get a whole lot richer.