By

PADDY HIGGS


David Beckham's fame failed to change him, according to former Manchester United club mate Grant Brebner.
Beckham, 38, made his final competitive appearance on May 18, having announced his retirement two days earlier.
It brought the former England captain's senior career to an end after 21 years, with Beckham sitting out Paris Saint-Germain's last match of the season, on Sunday at Lorient.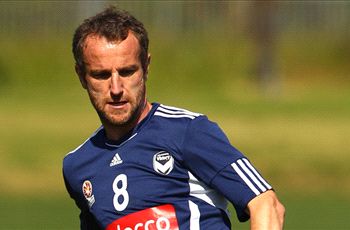 Ex-Melbourne Victory midfielder Brebner, who shared the pitch with Beckham as part of Manchester United's reserve team during the 1990s, shed some light on the boy who would go on to become the world's most recognisable player.
Even then, Brebner [pictured right] said, Beckham was "always fantastic in hitting a dead ball". It was not immediately obvious, however, that he would go onto such stardom alongside fellow United alumni such as Ryan Giggs, Paul Scholes, Nicky Butt and Phil and Gary Neville.
"To be honest, I think anybody who was around Becks when he was an apprentice [and] reserve player in the early days of Manchester United, wouldn't have thought he would have become this big in terms of globally - off the park as well as on it," said Brebner, who turned to coaching after his playing career ended in 2012 and is now at the helm of Victorian Premier League club Richmond SC.
"But he was certainly a fantastic player at that age... certainly someone I looked up to, with his quality on the pitch."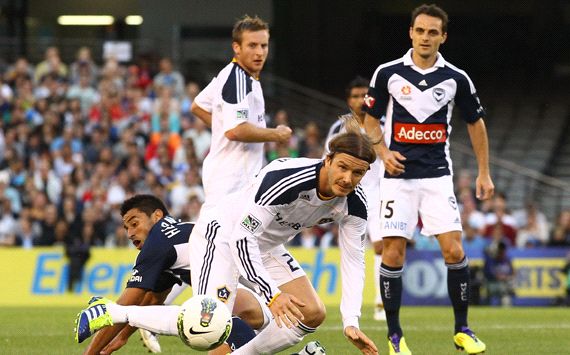 Beckham in action for the Galaxy against Melbourne Victory in 2011.
The careers of Brebner and Beckham took different paths after their time together at United. The former departed without making a senior appearance under Sir Alex Ferguson, having stints of note at Reading, Hibernian and Dundee United before joining Victory in 2006.
Beckham made his name at United, going on to make high-profile moves to Real Madrid, the Los Angeles Galaxy, AC Milan and finally PSG.
But their paths crossed again in 2011, when the Galaxy visited Australia to take on Victory in a friendly, soon after the Major League Soccer side had won the title.
"I have a story that probably wouldn't have aired on the telly. I actually thought that he wouldn't remember and one of the first things I said to him during the game was this particular story and he did remember it, which I found quite funny," Brebner said.
"We spoke about it for probably five minutes during the game while it was going on. But just that game in particular, I was like a little kid... and at the end of the game, wanted his top and there were not many people that you'd really have that feeling for in football.
"But to get his match top after the game was a fantastic moment and it's something that hangs proudly in the house.
"... That was the first time [I'd seen Beckham since being at United]. There have been other players in United that who I have bumped into and played against, but that was the first time I came across Becks and I genuinely thought he wouldn't remember me.
"But it just shows you how humble and down to earth he is to remember somebody from 15 years before."