By

CHRISTIAN RIZZITELLI


Newcastle Jets fans will have little trouble remembering former midfielder Jesse Pinto, while others may recall when he was controversially substituted after only coming on 16 minutes earlier in his A-League debut.
Pinto left the Jets at the end of the 2008-09 campaign, but international football now beckons through his Timor-Leste ancestry.
Now with Dili United, Pinto has been included in the Rising Suns' squad for qualification for the 2012 Asean Football Federation Suzuki Cup, beginning on Friday.
One of five countries aiming for a top-two spot to take their place in the tournament proper in the Phillippines in November, Timor Leste have high hopes - as Christian Rizzitelli found out when he caught up with Pinto for
Goal.com
.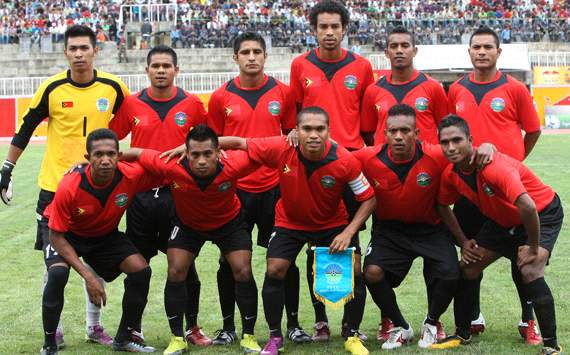 Rizzitelli: How have you fared with football since leaving the Jets?
Pinto: Since leaving the Jets it has been a different experience for me. Football in Timor-Leste is a lot different than in Australia. I have had to adapt to the weather and conditions, and also to the cultural part of living, but my Timorese background has made it a lot easier.
What is the current state of football in Timor-Leste?
The current state of football in Timor Leste is still progressing as it's re-developing after the war against Indonesia, but over my time here I've seen slow progressions in the right direction.
How has the chance of playing for Timor-Leste come to you? Did the Rising Suns approach you or vice-versa?
The chance of playing for Timor-Leste came through the assistant coach of the senior team at the time back in May last year. He saw me playing in Darwin when I was with the New South Wales schools team and approached me at the tournament. I told him I would have had to think about it. My time was up with the Jets and he called me and asked me again so I thought, 'Why not try something new?'.
Do you live in Timor-Leste all the year long or are you still based in Australia?
I have been in Timor-Leste for most of the year as my age still allows me to play for the Under-22, Under-23 and also the senior team. Tournaments for these teams are spread out all over the year so you could say that Timor is now my home away from home
How much time does Timor-Leste need to improve its football level in your opinion and why?
I think Timor-Leste is in the right direction to become one of the strongest countries in Asia. Recently, the Under-23s beat the Philippines and Brunei at the SEA Games in Indonesia, and in February this year the Under-21s beat Malaysia and Cambodia. More results like these would definitely see the country improve its football level.

What are the team's strengths and weaknesses?
Timorese players know how to play. I think their strengths are knocking the ball around real well and I think they would cope better than most Asian teams in hot weather, as Timor is always hot. Their weaknesses are their fitness levels, as late in the second half is where they lose most of their games.
Which are your expectations ahead of the Suzuki Cup qualifiers?
My expectation is to qualify. We have to get minimum two wins and one draw.
Which is the next goal of your career, after playing at full international level?
I would like to secure a professional contract in Asia to help my family.

Do you think there are some players from Timor-Leste who could make it at professional level?
I definitely think there is talent in Timor-Leste that goes unseen. A real talent is [forward] Anggisu Barbosa, [midfielder] Eusebio de Almeida and of course Jesse Pinto [laughs].
Which is the highlight of your career so far?
Everytime I step on the pitch I thank God for another opportunity, so every match is a highlight. And I love playing for my country.