OPINION
By SHAM MAJID


Former Sydney FC defender Adam Griffiths' move to Malaysian Super League giants Selangor FA in April could be the catalyst that sparks an influx of Australian talent back into the Far East.
While his decision to sign for an overseas club did not raise any eyebrows, eight-times capped Australia international Griffiths' choice of destination does perhaps raise hope that his move can rejuvenate Australian transfer activity to the footballing hotbed region of South East Asia, particularly in Singapore and Malaysia.
The region was once home to Perth Glory coach Alistair Edwards, Australian Football Hall of Famer Alan Davidson, ex-Sydney Olympic attacker Abbas Saad, former Perth Glory midfielder Paul Roberts and one-time Cambodia coach Scott O'Donell.
But the MSL and the S-League - Singapore's professional football league - have seen the number of Australian imports come to virtual standstill in recent seasons.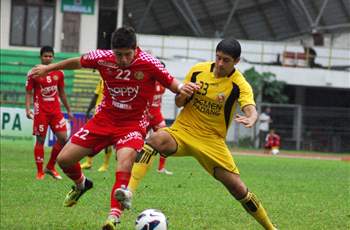 In fact, only Griffiths and fellow Sky Blues alumnus Dimitri Petratos [pictured right, with Kelantan FA] are playing their football in Malaysia's top flight.
The 1993 Australian Player of the Year Darren Stewart, coaching S-league outfit Balestier Khalsa, is the only player from down under to feature in Singapore's top-flight football scene.
While it is widely acknowledged that the footballing standards in both Malaysia and Singapore are significantly inferior to Asian counterparts such as the Japanese J-League and Korea's K-League, they still offer an attractive blend of competitiveness and professionalism.
With football firmly reigning supreme as the No.1 sport in their respective countries, Australian footballers cannot accuse Malaysia and Singapore of lacking in passion and quality.
One merely has to look no further than the recent ASEAN Football Federation Suzuki Cup in December, when Singapore were crowned kings of South East Asia and Malaysia were bundled out of the tournament in the semi-finals by Thailand.
On the club front, former Aston Villa midfielder George Boateng joined Malaysian side T-Team this season.
Another MSL side, Johor Darul Takzim, splashed the cash to sign Spanish Euro-2008 winning forward Daniel Guiza and midfielder Simone Del Nero from Getafe and Lazio respectively.
Ex-Socceroo Stewart is at the helm of Singapore club Balestier Khalsa.

With their campaign beginning in October before reaching its conclusion in April, A-League footballers often languish on the sidelines for nearly six months and struggle to maintain their basic fitness and match-sharpness - both key components of a footballer's DNA.
While top-tier clubs in Japan, South Korea and China might baulk at the prospect of offering Australian footballers lucrative short-term contracts, outfits in Malaysia and Singapore are enticing options for players who are keen to prolong their momentum and offer a unique opportunity for Australians to explore a new culture and experience.
A short stint in an unspectacular league such as in Singapore could lead to bigger and brighter careers. The name Aleksander Duric [pictured below] immediately springs to mind.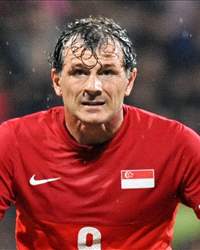 Bosnia-born Duric, a journeyman forward who counts then-National Soccer League clubs South Melbourne and Sydney Olympic amonga host of Australian clubs, joined Tanjong Pagar United in the S-League in 1999.
He has not looked back since, having plundered in more than 100 league goals for a range of different Singaporean clubs.
He also became a naturalized Singaporean, representing the Lions on more than 50 occasions and scoring more than 20 goals.
Balestier coach Stewart is flying the Australian flag in sultry Singapore. Having played as a defender for the Tigers from 1999 to 2001, the Newcastle-born former Johor FA player guided Balestier to first-ever top-six finish last season.
Singapore and Malaysia will always struggle to attract the cream of the crop from their richer and more illustrious Asian counterparts.
But with steadily improving levels of administrative professionalism and competence on the pitch, Australian footballers should seriously consider a stint in one of the world's most passionate football conclaves.