By

RYAN McGEE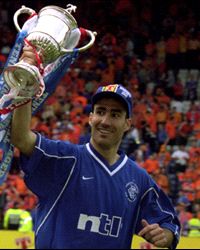 He has tasted the pressure of cup finals in Scotland, crunch World Cup qualifiers and an A-League decider - now, former Central Coast Mariners player Tony Vidmar speaks to
Goal Australia
about his experiences in the build-up to the 2012-13 A-League grand final.
Part of the Central Coast Mariners' losing team in the 2008 A-League decider, Vidmar gives a first-hand account into what the players of his former club and those of fellow grand finalists Western Sydney Wanderers face in the lead up to Sunday's match.
The ex-Socceroos defender also recalls his best and worst memories while at the Mariners, including his crucial slip that set Newcastle on their way to a 1-0 victory in the 2008 final - the final match of his career.
A multiple trophy winner while with Scottish giants Rangers, he compares his final experiences in Australia to those he has enjoyed abroad, and how he thinks Central Coast will fare against the Wanderers this upcoming Sunday.
ON THE BUILD UP TO THE 2008 GRAND FINAL...
"... There's a lot of distractions, and I think at times unnecessary distractions. My feeling was that week there were too many distractions, and some players didn't know how to cope or deal with it. Then players start to get frustrated, even media interviews, players say things and it gets blown out of proportion.
"There's always something that goes totally against what has happened during the season. In a way it can get out of control, and that was my feelings. It was frustrating, because we probably didn't have a proper build up and the focus should have been on the training."
ON HOW IT COMPARES TO OTHER FINALS...

"... It's a similar build up - it's a cup final. In the Scottish Cup, there were a lot of media distractions. But Rangers is such a big club, there's many distractions, so it's nothing new.
"... But for a smaller club, who don't get as much media attention... All of a sudden, there's so much focus on them for this week. It asks how the players react and how they deal with it. They have to try to keep it as normal as possible."
ON WHAT HE REMEMBERS OF THE 2008 FINAL...
"... Sometimes, the 90 minutes can go so fast and you don't even know what's happened. It's gone past you, and that's what I mean in terms of the occasion.
"For me? It didn't go past me. It was a strange game, for me anyway, being my last game and [one] that had a little bit of ups and downs.
"We went into the game and we probably didn't play our best, but throughout that year we were the best team. And where it mattered, those small details probably affected us, and the end result.
"Right at the end, we had it all against us. The handball against us, which wasn't given, was probably a talking point. I think there was a lot of people who saw it, and that was probably the moment that changes the game."
ON MARK BRIDGE'S WINNER FOR THE JETS IN 2008...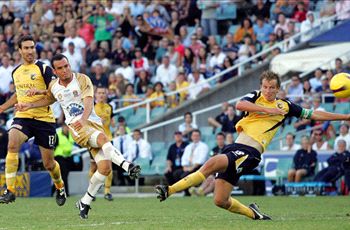 ".. I was the one that lost the ball - that is what I do remember.
"In the interview straight after the game, I knew I was the one who caused the goal. That was my mistake and I put my hand up for it.
"These boys had been in a grand final, and they lucked out. It didn't happen. That will be there with me forever.
"A couple of players had also been in that situation before. But I don't think we played well that game, and depending on getting a handball, and getting that decision... Then the game changes."
ON THE HANDBALL THAT WAS NOT GIVEN...
"... The referee's got to give it. And we've just got to continue to play.
"But players were disappointed and upset about it because it was pretty obvious what happened, because Newcastle may have ended up with a man down and us with a penalty."
ON PLAYING HIS FINAL MATCH...
"... I announced my retirement the week after we qualified. And that's why I did it then, because I wanted to get it out of the way. I knew there was going to be a lot of attention, so that's the way I thought... 'I've got to try to make this as normal as possible'. And that's why I announced it two weeks before the final - so that way it's gone, it's done, it's forgotten.
"But for me it wasn't any different, I played every game as if it was my last game."
ON WHAT IT MEANS FOR THE MARINERS TO WIN...

"... I hope that if they do win it, they can increase they support they get and getting more supporters through the gates.

"I think with the good players that they have there, it would really put Central Coast on the map. And I think now would be a fantastic time, if they get over that final hurdle and hopefully that helps the club progress."