By

DOUG BOOTH
Old Soccer

Mehmet Durakovic played 64 times for Australia, but three appearances hold special memories for the former Socceroos defender.
Although he never played for Australia in the World Cup finals, the former South Melbourne centre-back played a key role in Australia's marathon bid to reach the 1994 tournament in the United States.
Twenty years ago, the Oceania winners had to play off initially against the second-placed CONCACAF country, with the winner then meeting the fifth-placed South American side.
It was a tall order for the Socceroos team on 1993 consisting mainly of part-timers led by another South Melbourne stalwart, Paul Wade.
The initial obstacle was to overcome Canada over two legs.
The first leg, on July 31, 1993 in Edmonton, ended in a 2-1 win for Canada.
Durakovic played in that match alongside Alex Tobin in the heart of the Australia defence. But the first leg was also significant for in the international debut of Mark Schwarzer, who came on after first-choice goalkeeper Robert Zabica was sent off after just 17 minutes.
Schwarzer, 40, will celebrate 20 years as a Socceroo later this year in a career that has produced 103 caps for his country.
The second leg, on August 15 in Sydney, was even more memorable.
"I had suffered concussion and a nasty head wound which required 16 stitches after copping an elbow in a cup clash with Morwell Falcons," Durakovic, now 47, recalled.
"I was keen to play in the decider in Sydney so I covered the stitches with a thick head banadage. I still have that bandage in a cupboard at home somewhere."
The inspirational Durakovic refused to take a backward step and his dedication was rewarded in the 77th minute when he headed home a free-kick to force the tie into a penalty shootout.
"We won a free-kick just inside their half. It was 1-1 and we needed to score to force the match to extra time," he said.
"David Mitchell went up with the defender but the ball went over them and I kept on running in to head home."
It was one of six goals that Durakovic would score for his country, and what a vital header it proved to be.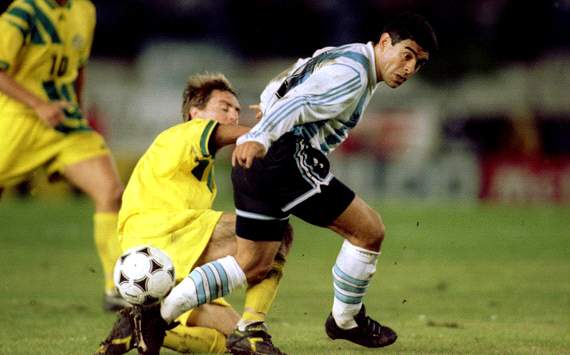 Australia captain Paul Wade marks Diego Maradona tightly in the 1-0 defeat in the second leg.

Schwarzer then proved to be the hero in the shootout, just as he would be against Uruguay 12 years later, stopping two penalty attempts to earn Australia a play-off against the Diego Maradona-inspired Argentina.
Maradona was urged to come out of retirement in a bid to steer his country to the US finals after a humiliating 5-0 defeat by Colombia.
But the football legend almost did not play in Sydney because of his record of drug abuse, which looked likely to deny him a visa.
In the end, Maradona played in both legs, delighting Durakovic and his Socceroos team-mates.
"He lost a reported 15 kilos in weight preparing for the campaign against us," Durakovic said.
"He was the best player in the world. He was my hero. It was an honour to be on the same park as him.
"I remember watching Maradona at Argentina's first training. He turned up with his shoelaces undone. That has always stuck in my mind.
"Wadey marked him [for the most time] in the two legs and I had [striker Gabriel] Batistuta, although I picked up Maradona at times in the second leg in Buenos Aires."


"I remember watching Maradona at Argentina's first training. He turned up with his shoelaces undone. That has always stuck in my mind."


- Mehmet Durakovic

Durakovic said he would never forget the qualifiers, especially the return match in Buenos Aires on November 17 in front of 100,000 screaming fans, after the Sydney clash two weeks earlier had finished 1-1.
"It was a fantastic experience. We were gutted with the way we lost 1-0," he said.
"Both of their goals, in Sydney and Buenos Aires were unbelievable. There was a strong wind in the second leg and their goal, which gave them a 2-1 aggregate win, came about because of the swirling wind.
"We were part-timers but we matched it with Argentina. We were gutted at losing to two phenomenal goals."
After the game, Maradona was so impressed with the Socceroos performance that he said to Wade: "Your tears of pain, will one day be tears of joy".
Former Melbourne Victory coach Durakovic is convinced the current crop of Socceroos are heading in the right direction and will qualify for the 2014 World Cup finals in Brazil.
"We can match it with any country. We just need time and more preparation," he said.
"I am convinced we can become a top 10 team within the next 10 years.
"We are getting better and our grass-roots programs are working. You can see that in the A-League."
Now in his new role as football operations manager at South Melbourne, Durakovic has a key role in ensuring the next generation of Socceroo will continue to filter through.