OPINION
By DEJAN KALINIC


He was the South American expected to play second fiddle at one of the A-League's biggest clubs.
Instead, Gui Finkler, 27, has outshone Marcos Flores at the Melbourne Victory through the first part of the season.
The Brazilian [Finkler] and Argentine [Flores], rotating through the number nine role in Ange Postecoglou's side, pose a serious threat to every team in the competition.
But while 2010-11 Johnny Warren Medallist Flores is yet to recapture the form that made him a must-watch on a weekly basis when at Adelaide, Finkler has starred.
Not blessed with speed, Finkler relies on vision and touch to set up goals, something he has managed to do regularly this campaign.
With eight assists, he sits atop the league's charts and three clear of another South American performing strongly - Adelaide's Marcelo Carrusca.
Finkler's set-pieces trouble opposition sides but his ability to drift into space and be clever in possession even more so.
Once signed on loan by English side Wolverhampton, Finkler is that rare beast who sees more options than his team-mates.
His ability to pick the right one more often than not makes him hard to stop, even if earlier in the season it looked like he would need more time to settle.
"Guilherme is an exciting prospect and I'm looking forward to working with him," Victory coach Postecoglou said when the signing of Finkler was announced.
"Brazilian players have certain qualities that not many other players possess, so I'm confident he can bring a different type of flair to the group.
"But more importantly, he comes with a determination and ambition to be part of a successful team."
It is perhaps the bit of luck the Victory deserved from South America, having failed with the likes of Ricardinho, Leandro Love and Ney Fabiano.
Yet, one of their fiercest rivals - Adelaide United - have a South American flavour of their own.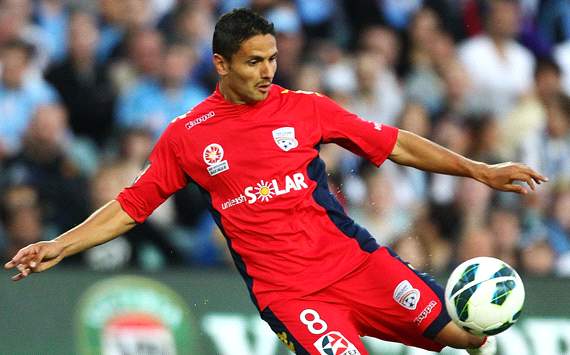 Carrusca is another of the competition's South American contingent to impress
Carrusca and Jeronimo Neumann, along with Dario Vidosic, will be crucial to Adelaide's chances of winning the title.
Argentine Carrusca has been particularly impressive in his past few outings, but only thanks to his partner Osama Malik in the centre of midfield.
The under-rated Malik allows Carrusca - formerly of Cruz Azul, Banfield and Galatasaray - to be the more creative of the duo and the 29-year-old is thriving.
With a pinpoint left foot and good vision, his ability to link with Jeronimo and Vidosic for the remainder of the campaign will be worth watching.
But perhaps not as much as Finkler, who looks capable of being the X-factor in the Victory's title bid.