LA REGISTA
By Vince Rugari
Joe Marston medal farce inexcusable
We needed an afternoon of football ecstasy, La Regista proclaimed last week. Instead, we got a dog's breakfast. With another grand final at Suncorp Stadium and a guaranteed crowd of 50,000, FFA were through on goal and one-on-one with the goalkeeper. All they had to do was keep their nerve, round the man with the gloves and slot the ball into the back of the net and they would have guaranteed themselves a welcome few days of good news. The game itself was nothing to write home about, and only the late, late drama [we'll get to that] saved it from becoming one big, fat anti-climax. But no. FFA's shot sailed high and wide into Row Z, and somehow the Joe Marston medal was hanging around the neck of Thomas Broich straight after the final whistle. Not sure which bit would have been more embarrassing - asking Broich to hand it back, or telling a still-angry Jacob Burns to hurry up with his post-game shower because there were 20 journalists waiting for him in the press conference room. Honestly, and La Regista tries to avoid cross-code comparisons like this, but would this happen at the AFL Grand Final? In the NRL? Overseas? Of course not. This isn't reality TV. You cannot stuff that up. Particularly when the past season has, despite the spin claiming the contrary, been one to forget when it comes to off-field matters. Clive Palmer would have been beside himself.
Gillett cops the heat, but what of the linesman?
The last thing La Regista wants to do is get involved in the debate over whether or not that penalty was indeed the correct call. Was there contact? Probably. Did that contact constitute a foul? It's borderline. Was Besart Berisha off balance anyway after slaloming through three Perth defenders? Maybe. Did he dive? No, he fell over. Regardless of what happened, referee Jarred Gillett has now earned himself life-long notoriety for blowing the whistle and pointing to the spot for one of the A-League's most contentious penalties. His girlfriend, a Roar employee and an innocent party to this incident, has also shamefully been dragged into this mess. All the while, everyone seems to have overlooked the fact that Berisha was offside - behind the last defender, Bas van den Brink - when Thomas Broich made the pass to him. We're not sure which linesman - it was either Cream or Cheeseman, the two brilliantly-named assistants to Gold Coast product Gillett - was responsible for this mistake, but it's only fair that their private life is dragged into the spotlight now, because Gillett and his significant other have been unfairly slapped with a stigma that will follow them in football for the next little while. Or maybe we should just all calm down and think about other people before grabbing our pitchforks and flaming torches and starting a witch-hunt. Just a thought.
The football gods favour the brave
There is a dreadful, misleading and exploitive book out there on the market named The Secret. You may have heard of it. It was a spin-off of this documentary [very loose term in this context] that came out in 2006. The basic premise of The Secret is the law of attraction - that if you really want something badly enough, and that you think about it and believe it and stay positive, the universe will deliver it. It sounds like new-age nuff-nuff material, but Sunday's grand final may have given it a little bit of credibility. Perth had zero shots on goal and parked the bus. That's a negative approach. Brisbane had the initiative, and kept pushing and pushing - until finally, in the last 10 minutes, everything suddenly clicked into place from them. If it didn't happen then, it would have happened in extra time. The point is, the Roar wanted it, and they got it. The Glory tried to stop them - and nearly got away with a win on an own goal, which would have been a travesty of justice - but couldn't. It just goes to show that in football, good generally triumphs over evil.
Quote of the week
After handing the Joe Marston medal to Perth captain Jacob Burns, who was the rightful winner of the award, Thomas Broich was pretty cool about the whole kerfuffle. But when asked if he was surprised when he was called up on stage to accept it, clearly he got his back up: "I always feel like I have to defend myself. For the past two years now I've decided two grand finals and you're still asking me that question if I deserve it or not." Gold.
PLAYER OF THE WEEK

JACOB BURNS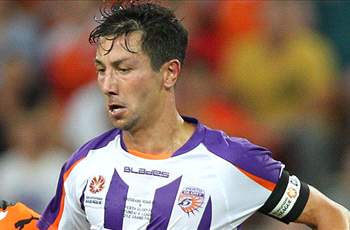 Player of the week
Of course, we can't go past Jacob Burns here, for his match on Sunday was the best of anyone on the park. It wasn't the kind of game where there was an absolute stand-out - Berisha and Broich were quiet until the final 10 minutes, and Perth again didn't get a single shot on goal. But Burns' grit and courage in the centre of the park halted numerous Roar attacks and inspired his men to hold on for dear life. They did, but not for long enough.
Youngster of the week
Congratulations to Melbourne Heart stopper Curtis Good, who is on trial with Newcastle United. It's a good opportunity for him. He's a good player, Newcastle are a good club and it's good that Heart have realized there is no good to be gained from standing in his way. We hope this comes good for him. Sorry. I'll grab my coat.