ANALYSIS
By Paul Barbieri
Tim Brown was known in his homeland as the 'Kiwi Cahill'. Possessing an uncanny ability to pop up from the midfield and deliver that timely goal, the New Zealand and Wellington Phoenix vice-captain had more than a passing resemblance to our Australia's Tim Cahill.
But one's time in football is always a finite thing and life after retirement is often a challenge. However, it is one that Brown has taken to quicker than others, as he announced a shock retirement on Monday at just 31 in order to accept offers to study for a Masters Degree in Management in the United Kingdom.
Helped by Brown's goal, the Wellington Phoenix extended his career by at least one game with their win over Sydney FC in Friday's A-League elimination final.
But inspired by Brown's example, Goal.com has decided to take a quick look at other big name stars across various sports who have left the games they love before their time for some of the more unusual reasons.
Some returned, others did not, but there are plenty of examples; former Anderlecht, NAC Breda and RKC Waalwijk forward Yuri Cornelisse joined the Netherlands' police force after failing to find a new club in 2010, while Manchester United star Javier Hernandez actually quit football to concentrate on his studies, only for his girlfriend and father to wisely convince him to return to the game.

Sebastian Deisler
SEBASTIAN DEISLER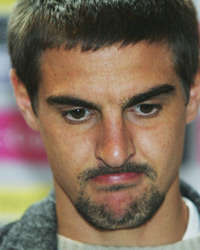 The former Bayern Munich and Germany midfielder retired age 27, having battled depression and serious injury.
Once hailed as the saviour of German football in the wake of their failure at the 1998 World Cup, Deisler arrived on the scene with a bang for Borussia Monchengladbach in the Bundesliga, scoring a cracking goal following a 60-metre run during September of that year. As Monchengladbach dropped to Bundesliga 2, Deisler was immediately transferred to bigger-name clubs like Hertha Berlin and then Bayern Munich. But when people are calling you the next Beckenbauer, things are bound to go wrong, as seen from Deiser's quote to Die Zeit: "I was 19, 20 when the German people thought that I could save German football. Me alone. There was still Michael Ballack, but he was four years older and played at idyllic Kaiserslautern. They gave me no time to settle." And, of course, it did go wrong as a series of serious injuries and the weight of expectation gradually crushed poor old Deisler, leaving him with depression and a shadow of the player he promised to be. Having missed the World Cups in 2002 and especially the 2006 tournament in Germany, Deisler opted to end on a career that promised so much, leaving the game to set up a shop in Freiburg selling Nepalese and Himalayan artefacts.

Oliver Gill
OLIVER GILL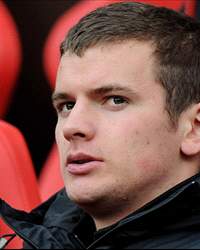 His last name is not popular among all United fans, and may have influenced Oliver Gill's decision to leave football for study.
Like Brown, Gill opted to leave football for the world of academia, leaving Manchester United to study economics up north at Durham University in July 2011. Gill, the son of United chief executive David Gill, had won the United's reserve player of the year award the previous season and had enjoyed a few first-team appearances while on loan to Bradford, but ultimately opted to leave football to commence his studies. The younger Gill's decision, however, may have been influenced by the fractious relationship between his father and sections of the United fan base upset with David Gill's increasing alignment with the Glazer family, who own the club. In March 2010, Oliver Gill was on United's bench for a clash with Fulham and was roundly booed by a minority of supporters when his name was called out as a result of his father's ties to the Glazers. It was the first time that the fans had gone against Sir Alex Ferguson's request for their protests not to affect the team and it may just have influenced Oliver Gill's decision in the end.
Shane Supple
SHANE SUPPLE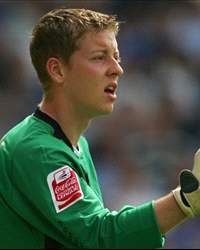 Aged just 22 and a promising goalkeeper, Supple simply fell out of love with football. He instead took up Gaelic football.
Irish goalkeeper Shane Supple retired from professional football aged just 22, after claiming he had "fallen out of love" with the game. He was on the books of Ipswich Town after coming through their youth ranks and spent time on loan at Falkirk and Oldham. Supple also stated that he felt certain players were only in football for the money and that was not something he wanted to do. "Playing professional football is not something I want to continue doing. As you grow up you realise there are other things in life and to be honest, the game is not what I thought it was. There is not one reason why I have made my decision, there are a number of factors. But deep down my heart is not in the game any more and I'm not going to go into work every day trying to convince myself that it is, so it's the right time for me to walk away. I suppose you could say that I have fallen out of love with the game and when that happens I've always said to myself that I wouldn't hang around." Supple has since represented county Dublin in Ireland's national game, Gaelic football.
Bobby Despotovski
BOBBY DESPOTOVSKI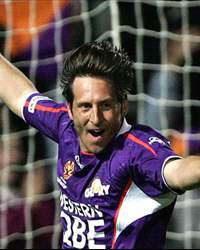 Still much loved at Perth Glory, the former striker put his playing career on hold for stint in the Yugoslav People's Army.
One player more familiar to an Australian audience is Perth Glory legend Bobby Despotovski. Born in Perth, Despotovski grew up in the old Yugoslavia and played junior level football for Red Star Belgrade before representing his home-town club Dinamo Pancevo. However, Despotovski was forced to put football aside as he joined the Yugoslav People's Army for a stint during the Balkans conflict that erupted during the early 1990s as Slovenia, Croatia and Bosnia and Hercegovina opted to split from the predominantly Serbian Yugoslav Federation. Despotovski managed to leave the army as a result of self-inflicted wounds, and moved back to Australia where he eventually ended up at Perth Glory. But Despotovski still embroiled himself in a nasty incident during early 2001 when the spectre of the Balkans conflict raised itself here in Australia. During a clash between Glory and the predominantly Croatian-supported Melbourne Knights, Despotovski made a Serbian Orthodox symbol to the crowd, sparking some very ugly scenes.
George Foreman
GEORGE FOREMAN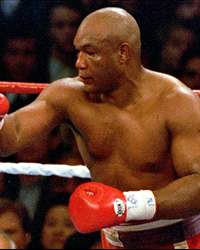 A two-time world heavyweight champion, Foreman walked away from boxing for 10 years to become a born-again Christian.
The king of the BBQ grill, Foreman is one of sport's largest characters. A two-time world heavyweight champion and inducted into the World Boxing and International Boxing Organisation Hall of Fame, Foreman is also an ordained Baptist minister and a more then successful entrepreneur. However, after his exploits in the Rumble in the Jungle in 1974, Foreman had travelled to Puerto Rico three years later to take on Johnny Taylor. Following a bruising encounter and having suffered from some extreme heat stroke, Foreman believed he had a near-death experience in the hotel room that showed him heading to some hellish place if he did not reform. Reform Foreman did, retiring from boxing for 10 years to become a born-again Christian. He returned eventually, retired again and returned once more, but a famous quote of Foreman's remains: "I don't even think about a retirement program because I'm working for the Lord, for the Almighty. And even thought the Lord's pay isn't very high, his retirement program is, you might say, out of this world."

Michael Jordan
MICHAEL JORDAN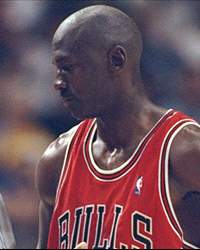 The biggest of the sporting names around the world, Jordan left the Bulls in 1993 for a career in the baseball.
Sticking to the theme of big-name US sportsmen, we might as well look at Michael Jordan's first retirement from the Chicago Bulls in October 1993 and his decision to try and make it as a baseballer playing for the Chicago White Sox. Jordan says his decision was influenced by the murder of his father earlier that year and his dad's ambition for the younger Jordan to be a Major League baseballer. However, rumours persist that Jordan's initial retirement was merely a front for the NBA to avoid besmirching Jordan's hugely marketable name by suspending him for gambling. Various journalists have dredged up stories relating to Jordan's gambling addiction, with the basketballer even called to testify in the criminal trial of James Boular, who had a signed cheque worth $57,000 when arrested by police. Just a few weeks after the Bulls won the 1993 NBA title, the league began an investigation into Jordan's gambling, but strangely enough this investigation was stopped just days after his retirement. Coincidence? Believe it or not. Jordan would later return for the Bulls, and would finish his career with the Washington Wizards.
- With Peter Staunton
Follow Paul Barbieri on