By

KIERAN JONES


"It hasn't been too cold here today," says Sasa Macura.
"It's only about minus ten."
Macura is talking about the weather in Hungary. He is one of a handful of Australian footballers there, and one of more than 190 of his countrymen playing in overseas leagues - many of who are battling away to make their names both at home and abroad.
Being one of such a vast number of hopefuls does not daunt the versatile MTK Budapest player, however. His ambition to get the best out of himself is still strong and evidenced by his commitment to rehabilitation and recovery after a tough 2012.
"I had a couple of injuries and I had an operation as well so I missed the whole of last season, but I've finally got it sorted," the 21-year-old told Goal Australia.
"It was a hernia just on the side where the abs are. The worst thing was they couldn't locate it, so I was pretty much doing nothing, just resting for a long time, then I came back and it was still there so it was a bit of a waste of a year."
When Macura caught up with Goal Australia, he was targeting a loan to re-kindle his career. Late in February, he go just that when he joined second division side Szigetszentmiklos FC.
Since arriving in Hungary, Macura - a skilful dribbler capable of playing across midfield and also at full-back - has suffered a string of injuries which have sidelined him and now has now found himself on loan after two-and-a-half years at MTK.
His deal at MTK - second on the NB I table - expires at the end of the 2012-13 season. With his future past then still unclear, Macura knows a return to first-team football is key if he is to leave the top-tier Hungarian outfit.
"I'm happy for [MTK], but then again I'm happy to go somewhere else and play 90 minutes and come back to MTK later on so we're still working on that," he said.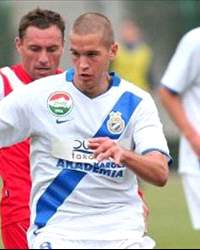 Loan aside, Macura is happy with the way his first three seasons have progressed, earning regular minutes in the first team at MTK in the 2011-12 season before getting injured.
It is hard to believe that Macura only turned 21 in November. He has been in Hungary for almost three years, after joining MTK from New South Wales Premier League side Bonnyrigg White Eagles as an 18-year-old.
Macura's football journey saw him represent two other NSW teams before he left Bonnyrigg for the greener pastures of Europe.
First came Northern Tigers then Apia Leichardt Tigers - clubs which helped him develop into the footballer who would have broken Bonnyrigg's record for the youngest player to make a first-team appearance, had it not been for a red card.
"When I was 16 they offered me a shot in the first team which was going to happen on a Sunday, but then on the Saturday I got sent off," he said.
"So I would have broken the record for being the youngest player to be in the senior team, but I missed that chance."
But Macura did not miss out on his chance to play in Europe.
"I got offered a trial from a Serbian team Vojvodina and that was from their sporting director Moidrag Pantelic. This was when i was still playing for Bonnyrigg," he said.
"I went over there in their winter and I did well and they said, 'You're going to be starting pre-season with us in June', so that was that.
"I was there with the first team, everything was good. They offered me a four-year contract but in the first year you go on loan and at about that time I got a manager.
"My manager said the best thing to do would be to go to Hungary, because they're looking for younger players and you'll be in the first team and Budapest is a beautiful city.
"He was right."



"... I'm happy to go somewhere else and play 90 minutes and come back to MTK later on so we're still working on that."




- Sasa Macura

After moving from Croatia to Australia with his family in 2000, Macura said he had little trouble acclimatising to another country.
"Not many of the boys over here speak English so I was forced to learn Hungarian, which is good in a way. I can speak properly now pretty much I can get by with it," he said.
"I've been here for two-and-half or three years nearly, so I'm used to everything here."
"It was tough to get used to the weather. We just put a lot of layers on; clothes, hats, gloves, thermals - everything. It's alright. It's just a bit cold in the beginning. Last time, when I was in Australia, I was in plus-35 [degrees] and I came back and it was -17 or -18."
Jonathan Cook was football writer for The West Australian newspaper for 17 years. He covered Glory's highs and lows for 15 seasons. He also reported on two World Cups, three Olympic Games and two Commonwealth Games.