By

JAMES WILLOUGHBY


Promising Australian striker Patrick Antelmi has no shortage of inspiration at new club Leeds United.
The 18-year-old from New South Wales left Portsmouth after two years in the English summer, with Sheffield Wednesday and Hibernian quick to express interest in signing the forward.
But Antelmi ended up at Leeds and, after impressing manager Neil Warnock during a lengthy trial, signed a one-year deal with the option of an extension in late September.
His signature on a professional contract made him the 15th Australian to join Leeds in the last 25 years, with Melbourne-born left-back Tony Dorigo the trailblazer.
But it was the efforts of Mark Viduka and Harry Kewell - players Antelmi admired as a child - that really put Leeds United on the map in his home country.
And while the other Australians to have worn the famous white shirt of Leeds have not matched the efforts of Viduka and Kewell, the likes of Neil Kilkenny and Paddy Kisnorbo have been first-team regulars in recent years at Elland Road.
"I have signed for a great club," Antelmi told Goal.com after finishing a training session at United's Thorp Arch facility.
"To be a young striker and Australian, knowing about Mark Viduka and what he did here... it's a massive honour to be at this club.
"Mark was such a big boy and had a great touch, shot and finesse of finishing... that is something every striker should take in. I have taken a few points out of Viduka's game.
"[The Australians to have previously played at Leeds] are all great people to look up to. You can't do exactly what they did because we are different people but I'll take some of what they did and do my own thing."
The respect and admiration Antelmi has for Viduka, who netted 72 goals in 166 appearances for Leeds, is almost immediately obvious.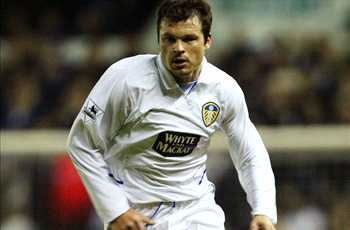 "
Mark was such a big boy and had a great touch, shot and finesse of finishing... that is something every striker should take in."

- Antelmi on emulating Mark Viduka at Leeds United
But Antelmi is also determined to make his own impression and with four goals in 10 appearances for Leeds United's Under-21 development squad - effectively the club's reserves team with four over-age players eligible for each match - he is doing just that.
His form could be credited to regular selection or simply the stability and security at the club - something that was not possible at financially stricken Portsmouth.
Pompey first expressed an interest in Antelmi - an Australia Under-17 international - at age 14, flying him in for a trial after he was spotted playing for Blacktown City Demons by his now-agent Gary Williams.
Antelmi's form in New South Wales was sensational and a quick YouTube search will show him netting a range of sublime strikes, while his goal scored from kick-off has attracted almost 15,000 viewers.
Portsmouth kept tabs on Antelmi and, once he turned 16, he signed a contract with the club, joining compatriots Ryan Williams, Alex Grant, Andy Higgins, Jordan Fitzharris and Billy Tsovolos in the youth set-up.
But things were to go very wrong at the South Coast club as they imploded financially, leading to relegation to the third tier of English football just four years after winning the FA Cup.
Portsmouth were keen to keep Antelmi in the summer but he preferred a more secure environment and decided to move on.
"My two years [at Portsmouth] went really fast," he said.
"I enjoyed it a lot because I had my other Aussie mates there and everything was good. But obviously it wasn't a stable club for me to be at, or anyone really.
"Even though it was a big decision to make, I had to make the move to leave for myself."
Antelmi was not the first player to switch Fratton Park for Elland Road in the off-season.
Defender Jason Pearce - Portsmouth's 2011-12 player of the year - was highly sought after by United and eventually joined for a reported fee of £500,000, before goalkeeper Jamie Ashdown, midfielder David Norris and attacker Luke Varney all left the club to join Leeds on free transfers.
And Antelmi says having familiar faces at Leeds made things a lot easier when he initially arrived in West Yorkshire.
"It was a lot better for me knowing them lot were here [when I signed]," he said.
"Making myself come into a new place and a new environment... it made the move a lot calmer.
"I'm quite close to Jason Pearce and him being here helped a lot. He takes me into training everyday now and we always talk. He has helped me a lot already."
"Paddy Kisnorbo [now on-loan at Ipswich Town] has also helped quite a bit. It has been good to go up against defenders like Paddy in training, knowing what he has done, playing a lot of games for Leeds and Leicester.
"He also has played with us in the Under-21's and it is encouraging to have Paddy at the back... even if he is screaming at times," he laughed.
As is the case with any young professional, Antelmi is desperate to be in and around the first-team at his club.
He says he has taken encouragement from the involvement that the likes of 19-year-olds Sam Byram [32 appearances this season] and Dominic Poleon [seven appearances] have seen in this campaign.
But while Byram has risen to prominence this season with a terrific run of form that has several English Premier League clubs reportedly interested in him, Poleon took the more traditional route of proving himself with a loan spell at League One outfit Bury.
He has only been involved once since returning to Leeds but has demonstrated he can perform when given the chance to play first-team football.
And Antelmi is more than keen to prove himself on loan if given the chance at some stage of this season.
"It'd be good to get an experience of playing in a first team," he said.
"Wherever the opportunity comes along, it would be good to take and see what happens.
"Otherwise I'll keep doing what I am doing at Leeds and hopefully be in and around the first team here at some stage."