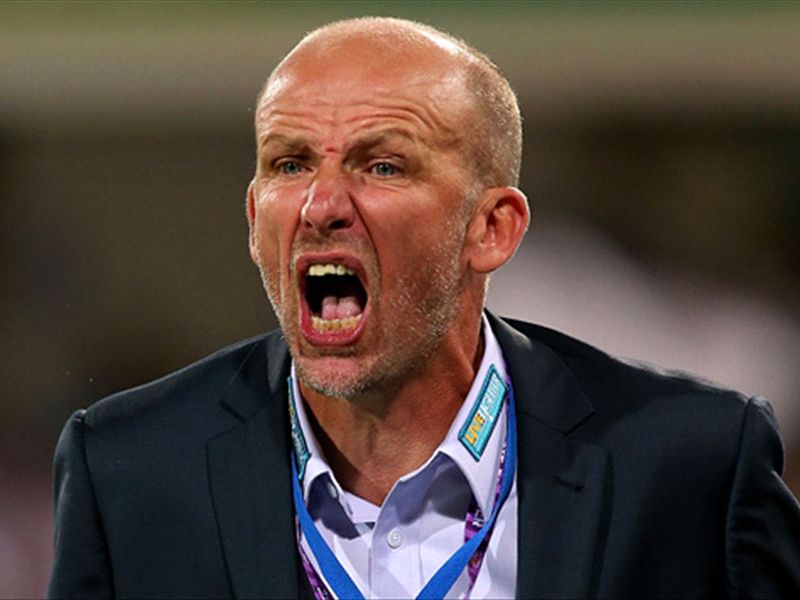 Perth Glory
coach Kenny Lowe has bemoaned the fact his side is simply not good enough as they bowed out of the finals race with a
3-0 loss
to
Western Sydney Wanderers
on Sunday afternoon.
Indeed, Lowe struggled to find any positives to come from the result.
"It's a tough one that," Lowe said.
"I think when you're dominated like that by a good side, I think you've just got to put your hands up.
"You've got to be honest. I think it showed today that we're not good enough. The young boys are not ready.
"You can't fault the honesty, but the quality at times where we regained the ball and just gave it back because they (Western Sydney) were so physically capable.
"You actually look inside," Lowe added. "You don't look outside for excuses or ways out. You actually take a long hard look at yourself and really ask the question 'have I really given everything?'
"Probably some of the young boys have, just unfortunately they're not of the quality they need to be at the present moment.
"Today they just got out-fought, out-run, out-battled and outplayed, but that's life."
Asked if he thought he would be considered for the full time coaching role next season, the interim coach said he thought he could do well in the role.
"That's a toughie, (we're) bottom of the league.
"I think we've coped admirably, and we've tried, but that's down to other people to decide what they want to do.
"I'm passionate, I care and we've got a lot of boys in the change room who are like that.
"I'd certainly love to be around, I think I've got some qualities that could help but again, that's out of my hands."
Western Sydney Wanderers coach Tony Popovic, meanwhile, was thrilled his side came through a busy fortnight in a strong position, despite having to juggle AFC Champions League and A-League commitments.
Although they lost to cross town rivals Sydney FC in round 22, good results since then see Western Sydney in a strong position in the ACL and still second place in the domestic competition.
The win over Glory was the last game in the stretch and Popovic said overall he was happy with how his side had coped with the workload.
"Good day, good couple of weeks," Popovic said.
"It's been a difficult period, five games in 15 days.
"When you think the first game was a defeat in the derby, and the way the players have responded, we're obviously very proud of the group.
"They have been really focussed and it's been a fantastic response in the four matches since the derby defeat."
Against Perth, it took his side 42 minutes to open the scoring despite being the dominant side from the outset, but Popovic said he was not concerned and was happy his side did not panic.
"We believed that if we maintained our quality and maintained our final third entries that we were getting, that we would get rewarded.
"In the end it was a reward for a good performance on the back of a tough couple of weeks."