Maxi Beister will arrive at Melbourne Victory with some tantalising potential but serious questions about his injury record and mentality.
Victory signed Beister on loan from Mainz on Tuesday, with the 26-year-old forward finally securing a move away from the Bundesliga club after being relegated to the reserves.
Beister was once considered one of the more exciting talents in Germany, with the Hamburg youth product representing his country's Under 19, Under 20 and Under 21 teams, but he has struggled to make a significant impact at senior level since a major knee injury in January 2014.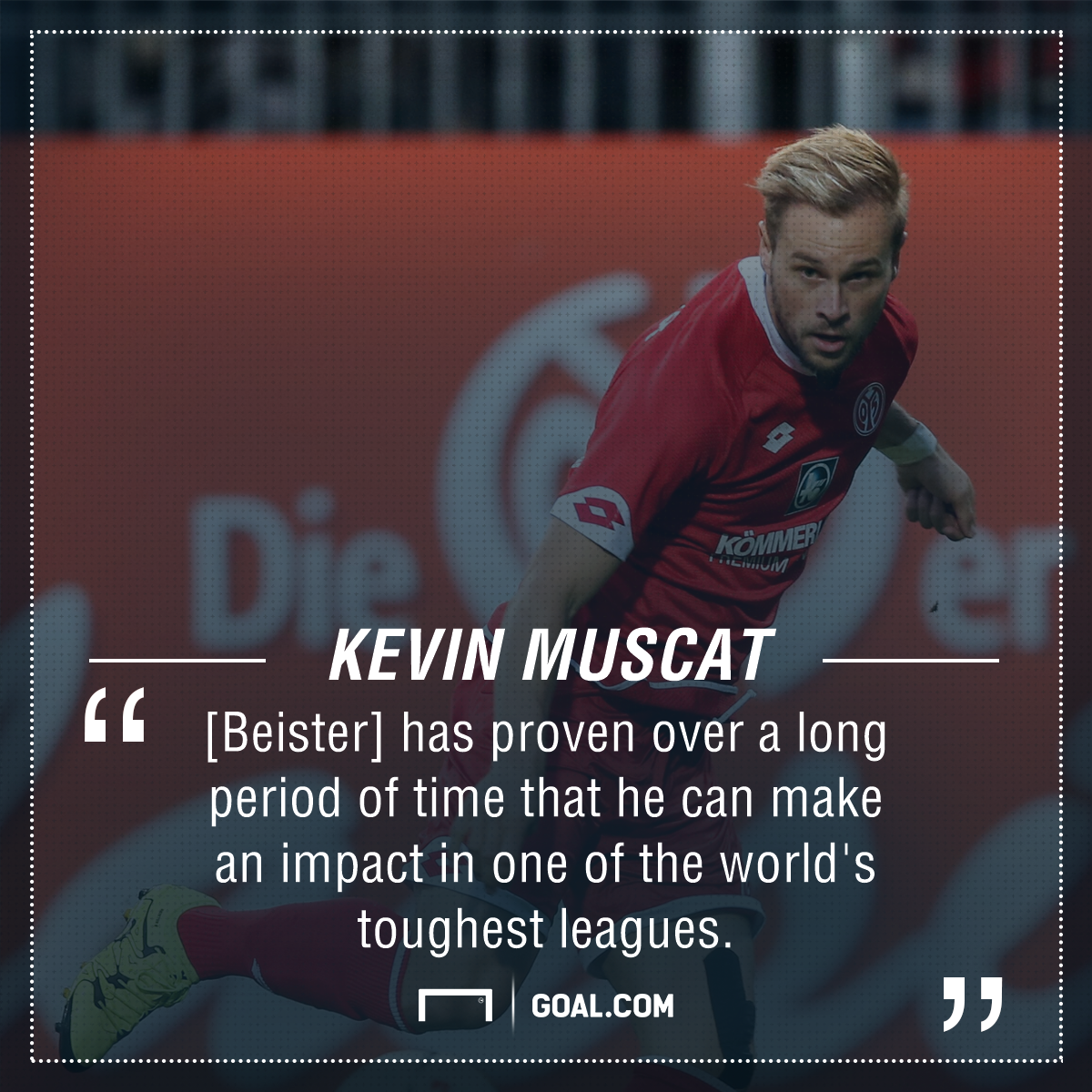 At his best, the powerful left-footer lit up the Bundesliga but he arguably hasn't been near that level for two years.
Goal Germany has given Goal Australia an insight into just what type of player Victory have signed.
Disappointing at Mainz
Beister departs Mainz having struggled to get on the pitch with the club's senior side.
Last season, Beister made just five Bundesliga appearances for Mainz - a number of injuries curtailed his influence - and then went on loan to second-tier outfit 1860 Munich in February to play another eight senior games for the campaign.
Beister trialled with Darmstadt during pre-season but didn't secure a move and upon returning to Mainz he was told he would be training with the reserves.
The winger was finally included in Mainz II's squad on September 17 and started against Werder Bremen's reserves only to be substituted in the 35th minute for disciplinary reasons, and Beister was subsequently suspended from the team.
Asked about the situation after the match, Mainz's reserve coach Sandro Schwarz said: "I would like to have the feeling that everyone is animated to join the team."
Injuries halt progress
As Goal Germany's Tobias Lorenz explains, Beister was "a great talent and a promising player for the future of German football" until a cruciate ligament rupture in 2014.
That injury saw Beister miss 38 matches for Hamburg and he has since had problems with his meniscus and ankle, playing just 14 senior league games since the start of the 2014-15 season.
Prior to his knee injury, however, Beister was flying.
A two-year loan move at Fortuna Dusseldorf - including arguably the best season of his career in 2011-12 - saw Beister gain valuable experience, and he returned to Hamburg to play 39 Bundesliga matches and score eight goals in two years.
In his second season at Dusseldorf, Beister played alongside former Victory striker Robbie Kruse, with the former critical in the club's successful rise to the Bundesliga as he scored in the second leg of a promotion-relegation play-off against Hertha Berlin.
Powerful and versatile... on and off the pitch
Beister's powerful left boot makes him a threat anywhere around the attacking penalty area, with the Gottingen-born forward able to play on either flank as well as up front.
But his versatility isn't just confined to football - Beister is also a budding entrepreneur.
"During his long injury break due to his severe knee injury, Beister began his first entrepreneurial activities," Lorenz said.
"In March 2014, he opened the 'Immerschlau' auxiliary school in Hamburg as a shareholder. At the same time, Beister founded a club, SC Luneburg, with his father and former youth trainer."
But Beister was only just getting started as he then created a new form of takeaway tableware.
In December 2014, he introduced the 'Snaxcup' - a combined takeaway cup and plate - and applied for a European patent, with the unique all-in-one design now used by companies in Germany, Netherlands, Portugal and Switzerland.