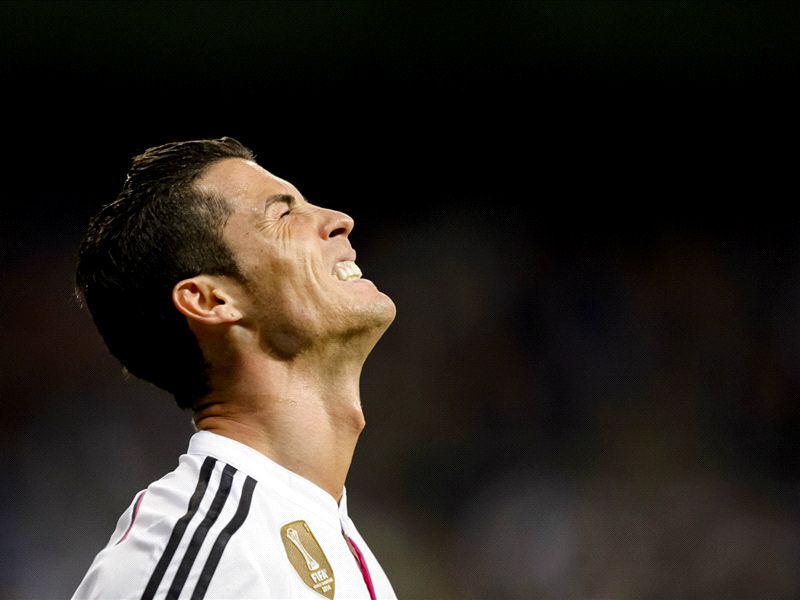 By Felipe Torres & Ben Hayward
The stats make sorry reading for Cristiano Ronaldo. The Portuguese forward has failed to score a free kick for almost a year, missing his last 54 attempts for club and country. Once considered a set-piece specialist, the 30-year-old has rarely troubled goalkeepers from
faltas directas
in recent times.
The last one was something special. Cristiano curled a low effort under the Bayern Munich wall and past Manuel Neuer to make it 4-0 at the Allianz Arena and score his 16th of the season in the Champions League as Real Madrid made sure of their place in the final, which they went on to win against Atletico Madrid in Lisbon the following month.
However, that strike in Munich came on April 29th. Almost 11 months on the Portuguese has failed to net another in 54 attempts, of which 22 have hit the wall, one has rebounded off the woodwork, 13 have missed the target altogether and only 18 (exactly a third) have needed a save from the goalkeeper.
So what is going wrong for the three-time Ballon d'Or winner?

"Cristiano is only going through a difficult spell," former Brazil midfielder and free-kick specialist Marcos Assuncao told Goal in an exclusive interview. "There are many free kicks in a match and it is normal for the ball to hit the wall or sail over the crossbar. We have to analyse if the wall is at the right distance, if the referee is counting the steps. The biggest difficulty for a free-kick taker is the wall not being at the right distance. So the ball often hits the wall or goes over the crossbar."

However, only 18 of 54 attempts on target is a paltry return for a player previously considered among the best at the art of taking free kicks, and Ronaldo's technique of hitting through the valve seems to rely more upon the effects of the ball to fool the goalkeeper than actual aim or accuracy, whereas others seem to consistently hit the target.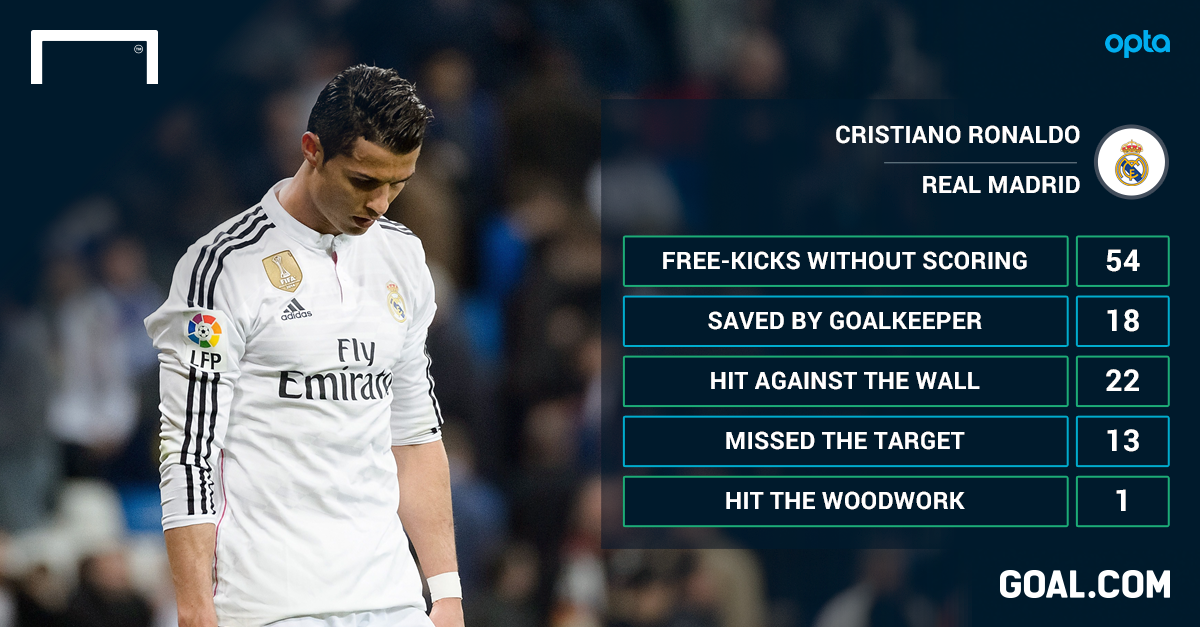 But Assuncao said: "He doesn't have to change. He has already scored many free kicks with his technique. If the ball is hitting the wall or going over crossbar, it may be because the wall is too close or he is bringing his body back, which makes the ball goes over the bar. These are some difficulties for the free-kick taker.
"It's not a lack of training. Cristiano trains hard and is going through a difficult moment, like I have had [in the past]. Each free-kick taker has their way of hitting the ball. So he does not have to change his style. He has been training in that way for a long time. It is not the time to change. A big change now would affect him. He should keep his technique."

Another Brazilian free-kick specialist, former Barcelona midfielder Rivaldo, agrees that Ronaldo could tweak his technique but should not look to alter things too drastically - despite his lack of success from set pieces over the last year.

"When you are in a difficult time, you sometimes go back to your training and make technical changes to get through it," he told Goal. "The best players, like Ronaldo and [Lionel] Messi, have amazing skills, but they train hard too.

"With free kicks you can work on improving the movement of the ball or on fooling the goalkeeper, but the focus is on scoring goals. And when you are already successful at that you might want to modify things but you don't want to change it too much."

In Spain, meanwhile, there are some suggestions that a troublesome knee problem could be affecting Cristiano's ability to hit the target or generate enough power on his set-pieces, with the Portuguese also scoring less long-range goals than in previous seasons.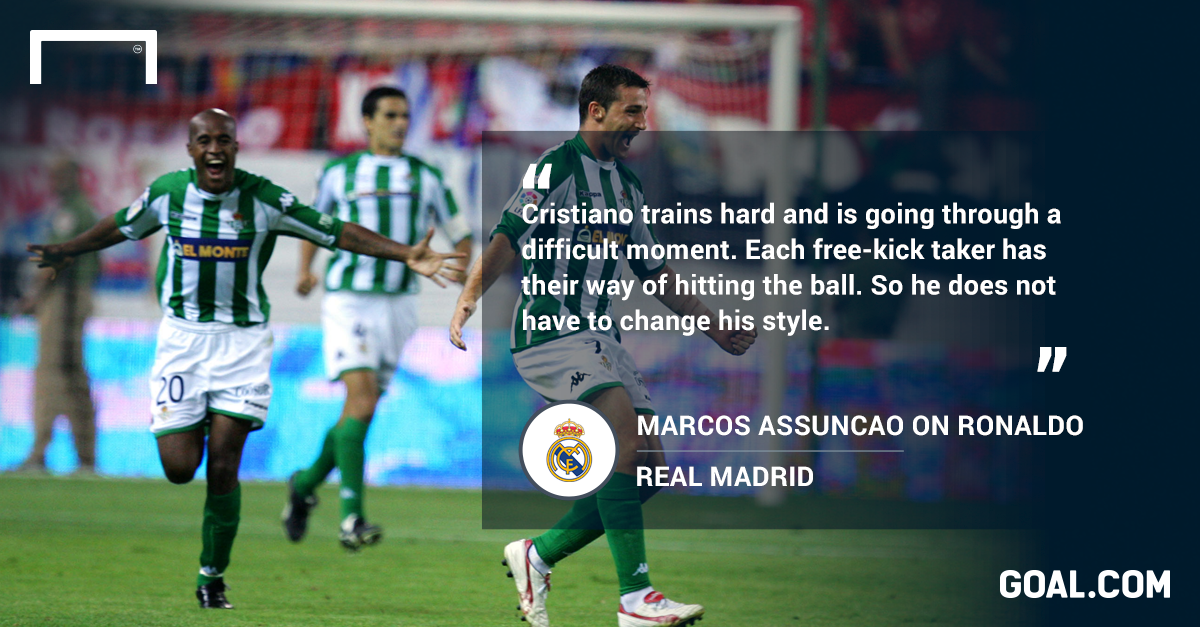 "A knee injury can affect things," said Assuncao, who played in Europe for Roma and Real Betis as well as turning out for a string of Brazilian clubs. "I had a problem in my right knee and had difficulties because of that. When I was going to hit the ball, the knee movement, with the impact, caused me pain. If he has this problem, it may be also affecting his way of hitting the ball. This problem changes some movements and the ball can go over the crossbar or hit the wall. He may be avoiding impact and pain."

At Madrid, Gareth Bale takes free kicks more suited to a left-footed specialist, but other players such as Sergio Ramos, Isco, Toni Kroos and Luka Modric all strike the ball with power and accuracy from distance. However, they are unlikely to get a chance with Ronaldo on the pitch.
"He is the official free-kick taker," said Assuncao. "He has always done it, helped his team and scored. It's not the time for Real Madrid to choose another player. Cristiano has always trained well and continues to improve. Real Madrid need another option for when Cristiano is tired or in pain but, when he is confident, he always has to be the official free-kick taker."

Ronaldo will be in charge of free kicks as usual on Sunday as Madrid meet Barca in a crunch Clasico clash at Camp Nou - and the Portuguese will hope to end his poor run by converting from a set piece in the famous fixture for the very first time.

On recent evidence, however, it doesn't look likely.