Inaugural Young Player of the Year Nick Ward admits if he had his time again, he probably wouldn't have left Perth Glory for QPR after the first A-League season.
Having scored five goals in 21 games for Glory in the 2005-06 campaign, Ward was judged the A-League's best player under the age of 20 and his form earned him a contract at QPR in the English Championship.
But Ward admits there was also interest from Dutch Eredivisie club ADO Den Haag and as a much wiser 29-year-old, he can concede his career might have gone differently if he had made another choice nine years ago.
"It's easy with hindsight to say 'I should've done this, I should've done that'…but I do remember at the time Graham Arnold had brought me into camp with the Socceroos, and him and Johan Neeskens were trying to push me towards a Dutch move," reveals Ward to Goal .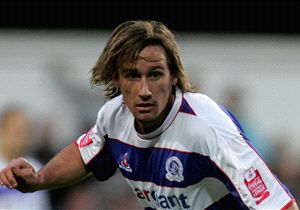 "You know, in hindsight, if I had my time again, I probably would've taken their advice and gone there [Netherlands] and maybe it would have been a better football education.
"But I took the option to go to QPR, which I really did enjoy, but English football, especially in the Championship, is quite difficult, very fast and sometimes you don't get a lot of the ball as a midfielder."
With Australia having played in their first World Cup in 32 years just before Ward moved to London, the future seemed bright for the Western Australian attacking midfielder.
Read more: 'I remember my old man saying "this is how it should be"' - Matt Thompson
Ward had been a key part of the Young Socceroos squad at the 2005 Under 20 World Cup, scoring one of their two goals, while he was highly rated by the likes of Arnold, who was about to become Australia's senior coach.
But after 18 months with QPR where he played just 23 senior games, spent a period on loan at Brighton & Hove Albion and suffered a few groin injuries, Ward returned to the A-League in December 2007 to sign with Melbourne Victory.
"QPR was kind of a crazy club at the time because [Flavio] Briatore and [Bernie] Ecclestone bought the club and the interchange of managers, while I was there, there was about six of them, so it was a difficult time," Ward says.
While Ward went on to win the A-League double with Victory in 2008-09, his career has failed to reach the heights it promised when he shone in purple in 2005-06.
Few would have predicted how the blonde-haired attacker would finish the season early in that maiden A-League campaign, however, as Ward did not start in Perth's opening eight games.
With former Liverpool midfielder Steve McMahon in charge of Glory, the coach's son Steve Jr was the preferred option at attacking midfield but Perth - the last champions of the National Soccer League - won just four of those matches.
Read more: 'The rest of the league was that far ahead' - Neil Emblen
"I was coming off the bench, and I kind of felt I should be starting in [midfield] with Simon Colosimo," Ward explains.
"But I had to bide my time and luckily results weren't really coming and he had to change things and I got my chance to go in and play with Colosimo in the middle, and I got in there, started playing well."
Ward was promoted in round nine in a 2-1 win over Victory and went on to start the rest of Glory's matches, helping them to within two points of the finals.
Read more: 'We were the most talented team' - Richard Kitzbichler
But while McMahon's reputation took a battering over his decision to sign and play his son at Perth, Ward denies he ever had a genuine problem with Glory's first A-League coach.
"I didn't really have a bad relationship with him at all. I thought he was ok," he says.
"He [McMahon] came from a great pedigree, in terms of his playing career, which always seems to be an issue with coaches…I'm not saying he wasn't a great coach because some of the things he'd say were pretty good but I always thought it was a big gamble bringing your son out because it definitely adds a lot more pressure."
Since leaving Victory in 2010, Ward has played for four different clubs - including Glory again - but admits he's "searching for a bit of stability" as he trains with Sydney FC to keep fit, while he tries to find a new club.