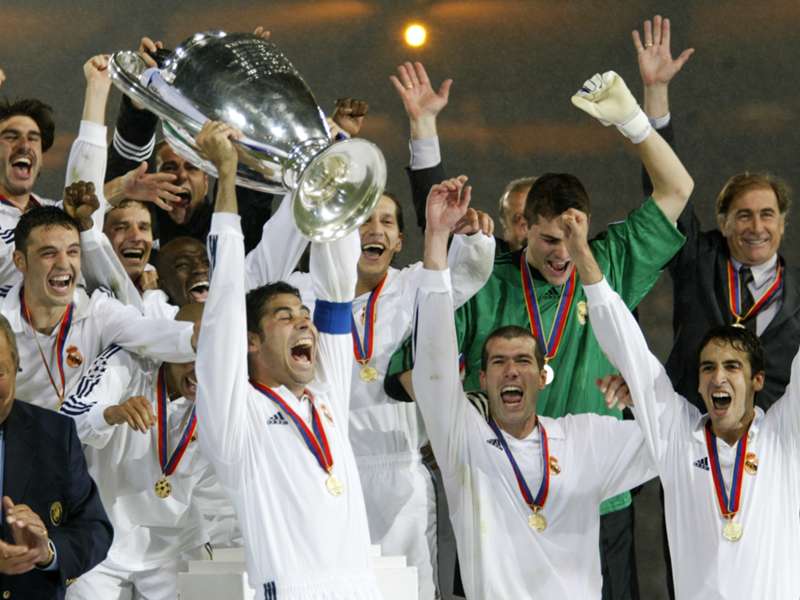 ANALYSIS
By Kris Voakes | International Football Correspondent
When Fernando Hierro lifted aloft the Uefa Champions League trophy in 2002, few could have foreseen that it would be 12 years before Real Madrid would return to the showpiece final.
That 2-1 success over Bayer Leverkusen at Hampden Park showcased the talents of some of the greatest players of the era, with names like Zinedine Zidane, Luis Figo, Roberto Carlos and Raul playing a part in the Spanish giants' success. But if they are to be joined in the pantheon of European champions for the continent's most decorated club, then players such as Cristiano Ronaldo, Gareth Bale, Karim Benzema and Sergio Ramos may well be deemed just as worthy of everlasting praise.
But which of the two outfits is the strongest? Is it Vicente Del Bosque's 2001-02 side or Carlo Ancelotti's 2013-14 version that deserves to be remembered most for their exploits. Both teams finished third in La Liga, and both found their way to the Champions League final, but who has the edge when broken down pound-for-pound?
In a bid to split the two, Goal compares below the strongest XIs available to the respective coaches, looking at their form over the Champions League-winning campaign rather than their careers as a whole.
IKER CASILLAS 2001-02 v IKER CASILLAS 2013-14

Surely the greatest curiosity over the two seasons in question is that these have been Iker Casillas' two most difficult spells in an otherwise untouched run as Real Madrid's indisputable number one. While in 2002, he replaced the injured Cesar Sanchez during the second half of the final, made a string of vital saves, and became first choice for over a decade thereafter, the 2014 showpiece could well finally signal his victory in the long-running battle with Diego Lopez for goalkeeping supremacy. The more experienced Casillas just about pips the head-to-head, despite not developing to quite the level many would have hoped a decade ago.
0
Winner: CASILLAS 2013-14
1
MICHEL SALGADO v DANI CARVAJAL
As successful outfits go, Madrid have always been more attacking than most, and their full-back choices generally reflect that. Neither Michel Salgado nor Dani Carvajal would immediately spring to mind when talking about the world's best defensive players but both have shown they can attack with some venom. Carvajal probably edges the comparison when it comes to ability off the ball, but Salgado displayed a unique ability to charge up and down the right flank without taking a breath over a period of many years. His quality overlap play behind first Luis Figo, then David Beckham, made him one of the most heralded full-backs of the early 21st century and in 2002 he was just beginning to hit his peak.
1
Winner: SALGADO
1
Fernando Hierro was one of the greatest defenders ever to don a Real Madrid shirt. His inspirational leadership was a beacon for the likes of Raul and Casillas to follow, his wonderful reading of the game was crucial in a run of three European successes in five attempts following 32 barren years, and his form in 2002 was as good as at any stage in his career. In all honesty, it had to be given the overly attacking inclination of the rest of the team. Similarly, Pepe has a thankless task at hand in attempting to offset the instincts of Ronaldo, Bale, Benzema, Di Maria et al, but this has been his best season yet. He still has some way to go to match Hierro though.
2
Winner: HIERRO
1
IVAN HELGUERA v SERGIO RAMOS
Ivan Helguera's record with Real Madrid was phenomenal. Excelling as both a centre-back and a midfielder, the ex-Espanyol man would slot in effectively wherever needed, picking up nine trophies along the way. Like Hierro, he was as good as ever during the 2001-02 run, making light of many people's assertions that he was more at home in the engine room with a string of magnificent defensive displays. Sergio Ramos has had a similarly inspired run defensively, with his double in the semi-final win over Bayern Munich an additional highlight, but his occasional susceptibility when stretched and continued recklessness in key moments just edges Helguera ahead in the head-to-head.
3
Winner: HELGUERA
1
While the Brazilian tradition for attacking left-backs has continued unabated over the last 12 years, the quality has dropped from the notable high of Roberto Carlos. The former Inter man was an inspirational addition to the ranks as an early Galactico, and 2002 was arguably the highlight of his career. Just six weeks after collecting the Champions League, he also became a world champion with Brazil. Marcelo, in comparison, has not yet been able to show his undoubted talent with the regularity that Roberto Carlos displayed, and while his compatriot was a marvel when it came to covering the entire left flank, the 26-year-old is more prone to leaving space in behind.
4
Winner: ROBERTO CARLOS
1
CLAUDE MAKELELE v XABI ALONSO
After the summer clearout of 2003 which saw captain Fernando Hierro and coach Vicente Del Bosque shown the door, many people within Real Madrid actually looked beyond those two figures and proclaimed Claude Makelele to be the biggest loss. Famed for doing the tough work of protecting the centre-halves in an otherwise attack-heavy line-up, the Frenchman was arguably the allen key of the 2002 Madrid side, bringing the rest of the parts together into a complete outfit. But for Makelele of 2002, read Xabi Alonso of 2014. The Spain international has been a phenomenon in the heart of midfield and will arguably leave an even bigger hole than did Makelele when he eventually leaves the club. His absence from Saturday's final could well be Atletico's biggest boost.
4
Winner: ALONSO
2
It may have cost Real Madrid €60 million and the severing of any diplomatic ties they ever had with Barcelona, but the transfer of Luis Figo was one of their biggest ever coups. During the spell between 2000 and 2004, he was an immovable object in the Madrid lineup, and in 2001-02 he was as vital as anyone, forming a sensational connection with Raul and Fernando Morientes thanks to his pace, power and finesse on the ball. While Luka Modric plays a rather different role, he also has had an excellent impact since signing from Tottenham, joining Xabi Alonso as an irreplaceable component in either a two or three-man midfield. Modric could yet go on to prove himself as one of the most vital signings of this Madrid era, but the Figo effect will take some matching.
5
Winner: FIGO
2
SANTI SOLARI v ANGEL DI MARIA

Santi Solari was one of the most underrated players of a Real Madrid squad full of them. While Zidane, Figo, Raul and Roberto Carlos hogged the headlines, the likes of Solari, Morientes, Helguera and Steve McManaman had a marvellous effect on the side both on and off the field. The Argentine was, though, part of a platoon for the final midfield position, with McManaman, Guti, Geremi, Flavio Conceicao and Savio among those who would occasionally be favoured. Di Maria, on the other hand, has made himself indisposable to Carlo Ancelotti with his performances both as a wide attacker and as a more withdrawn midfield man. His form this season has floored many onlookers who expected him to not even be in the club, let alone the first XI, for much of the campaign.
5
Winner: DI MARIA
3
ZINEDINE ZIDANE v GARETH BALE

In a team chocked full of Galacticos, Zinedine Zidane was unquestionably the finest of the lot. Bought for a world-record €70m from Juventus in the summer of 2001, his impact was immediate. He quickly became the figurehead of the charge towards European glory, and while some believed his goal against Deportivo La Coruna in La Liga in January would be impossible to top, he somehow managed it with an iconic volley in the Champions League final. Gareth Bale's arrival was similarly record-breaking, and has also seen him revel in a concerted run for European glory alongside his Copa del Rey-winning efforts. But even the Welshman himself would admit he has not quite managed to match the inexplicable performance levels set by the French legend.
6
Winner: ZIDANE
3
The King of Spain against the King of Portugal. One iconic number seven against another. A man with an unquenchable thirst for goals against an equally devastating finisher. Raul was the icon of an era which saw Madrid waltz to three Champions League successes, while Ronaldo has collected two Ballons d'Or in his quest to match his predecessor. The Spaniard broke Alfredo di Stefano's long-standing club record mark for goals scored, but it now appears a matter of time before Ronaldo usurps him as the Blancos' greatest ever finisher. Thanks to his sheer weight of goals, the Portuguese gets the nod between two almost inseparable legends. While Raul scored 29 goals in 55 games in 2001-02, including six in 12 in the Champions League, Ronaldo has netted 50 in 46, with a record 16 coming in a magnificent European season.
6
Winner: RONALDO
4
FERNANDO MORIENTES v KARIM BENZEMA

If there was one negative aspect to the signing in August 2002 of Brazilian legend Ronaldo, it was the resulting lack of playing time for Fernando Morientes. Alongside Raul, the Spaniard had been part of one of the most devastating forward partnerships of the era, and was a key member of the 2001-02 champions. But his lack of consistent goalscoring feats led to him being squeezed out of the picture, and in comparison Karim Benzema has revelled in the white shirt. His 24 goals this term have seen off the threat of Alvaro Morata as a potential replacement, taking his tally to 102 goals in four seasons following an unconvincing opening campaign in Spain.
6
Winner: BENZEMA
5
WINNERS: REAL MADRID 2001-02 (6-5)

Follow Kris Voakes on