COMMENT

By Peter Staunton
It may lack the box office glamour of its sister competition, the Champions League, but the Europa League is providing us with an intriguing plot of its very own.
With shock exits, penalty shoot-outs, spirited fightbacks and goals galore,
Goal.com
absorbed the very best of the action and then came up with our five big talking points from the second-leg, round of 32 ties, as the tournament makes its way to the last 16 stage.
Spurs-Inter will provide Champions League quality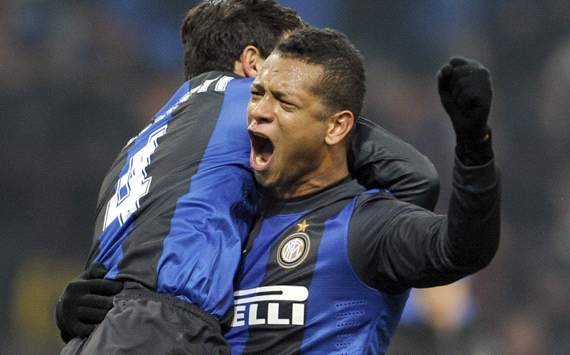 Had Bayern Munich held on for two more minutes in last season's Champions League final at the expense of Chelsea, then Tottenham would have been in this season's Champions League group stage.
That they were not is solely due to an unfortunate quirk in the process. Inter, a Champions League mainstay for so long, have been in financial trouble lately and have had to cut their cloth accordingly.
Nonetheless, with the talent in their ranks, they are still a Champions League-standard team, much like Spurs are.
Indeed, only two seasons ago, these two sides confronted each other in Europe's premier competition, in a tie which propelled Gareth Bale to international significance.
The calibre of player at Spurs' disposal, as well as the progressive management of Andre Villas-Boas, mean that they are now a Champions League club in everything but name.
On their day this season, under Andrea Stramaccioni, Inter have been imperious. But the coach has not yet been able to instil a consistency in his transitional team.
Two of Europe's most highly-regarded young coaches square off in what is undoubtedly tie of the round.
Lazio - this season's Atletico Madrid?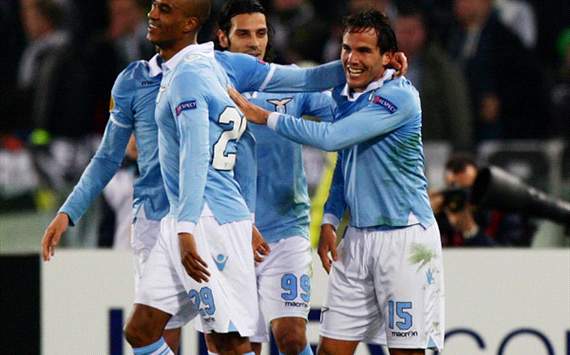 What Lazio produced on Thursday night in their 2-0 second-leg win against Borussia Monchengladbach was a performance of a Champions League standard.
Following a horrendously underwhelming display against Siena in Serie A on Monday, Vladimir Petkovic prepared his team expertly to execute a relatively comfortable victory which edges the Italians through to the last 16 to meet Stuttgart.
At this stage of the competition, they are among the favourites to claim the Europa League outright. Without a win in five league matches they may be, but Lazio are nonetheless fighting gallantly in Europe and have taken their place in the Europa League more seriously than their Serie A counterparts Napoli, who were decimated by the modest Viktoria Plzen.
The big challenge for Petkovic and his players is remaining in the domestic hunt for a Champions League place while battling for trophies on the continent and in the Coppa Italia. But as success looms closer, confidence among the group will grow. Alvaro Gonzalez, who scored against Gladbach, has spoken of the belief in the squad which flourishes round by round.
Lazio are in a similar position as Atletico Madrid were last season in that they are fighting it out for trophies as well as a place in the Champions League. Atletico ultimately came up short in their pursuit of a Champions League berth and that will remain the primary goal for Petkovic and the Lazio contingent.
If they remain on the coattails of Milan through the latter stages of the season there is no reason why come may they cannot put two trophies in the cabinet and congratulate themselves on a season well done.
Levante provide the magic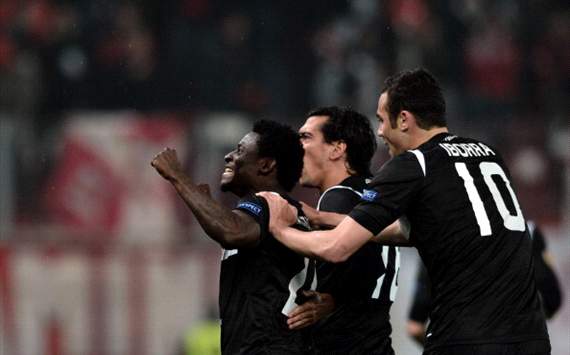 No player better epitomises the Levante way than Jose Barkero. In a squad full of players discarded by clubs elsewhere, Barkero embodies the sense of optimism and, indeed, over-achievement in this modest group led by the inspirational Juan Ignacio Martinez.
Barkero, once seen as a bright young Spain prospect, has excelled in the Europa League this season and has been central to the Valencia side's efforts in reaching the last 16. The 33-year-old has provided six assists in the tournament so far, including three in the comprehensive two-legged defeat of Greek champions Olympiacos.
Levante exist on one of the most stringent budgets in La Liga and are competing in their first-ever campaign of European football. After their barely-comprehensible ascent to the summit of the Spanish top flight last season, they ultimately landed in sixth place and have since negotiated their way through a qualifier, the six group-stage matches and the last 32 tie of the Europa League with only one defeat in 10.
Next up they welcome the Russian representatives Rubin Kazan.
"I am extremely proud for all that Levante have achieved this season. It's proof that we have a very competitive squad," the coach told
Uefa.com
.
But make no mistake, Levante are by no means done with the Europa League yet. Although Rubin put out Atletico Madrid in the last 32, Levante are an entirely different prospect.
"We are a very tight-knit group of players with strong motivation," midfielder Ruben Garcia told
Uefa.com
following the 1-0 away win in Piraeus.
Olympiakos had dropped down from the Champions League to compete at this level and were heavy favourites to eliminate the Spaniards. Rubin will not be underestimating these upstarts.
Steaua's resugence puts them back amongst the elite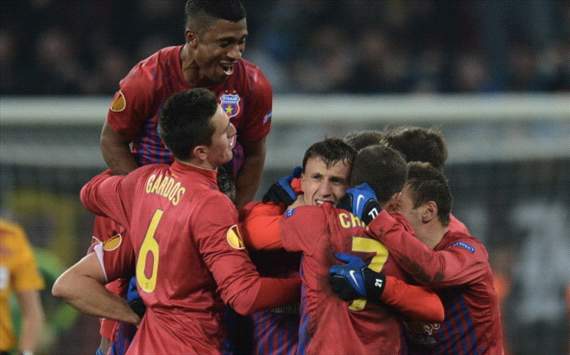 The stand-out result from the last 16 second-leg ties was Steaua Bucharest's 2-0 win against Ajax which preceded a dramatic penalty shoot-out win.
The Romanian giants, who have been off the continental radar for some time, look to be back to their efficient best domestically and now have a two-legged tie against Chelsea to relish. Ten points clear in the Romanian Liga I table, Steaua, owned by the controversial Gigi Becali, are on course to compete for a place in the group stages of next season's Champions League.
The last time that they won the title was, inconceivably, seven years ago as regional upstarts CFR Cluj, Unirea Urziceni and Otelul Galati took advantage. A lack of decent competition is probably the most likely reason for Steaua's serene progress through the league programme so far but it is in Europe where they have caught the eye.
Under coach Laurențiu Reghecampf, Steaua have become a side acutely aware of their limitations have have been efficient in the Europa League, topping their initial group from Stuttgart in second place.
Fortified by a good goalkeeper and a determined backline which is marshalled by national team defender Vlad Chiriches, Steaua are not the easiest side on the eye but possess a fine, crafty individual in the shape of Cristian Tanase in midfield.
"Bring on Chelsea! We can beat them!," said left-back Iasmin Latovlevici, who scored during the match as well as the shoot-out.
They are, admittedly, unlikely to beat Chelsea over the course of two legs, but playing in front of bigger crowds at the national stadium for home matches has been motivational to the players.
Steaua's comeback-win was the first of any Romanian team in a European knockout round since they, themselves, beat Middlesbrough in the 2006 semi-final first-leg. It provides a huge injection of confidence and belief for Romania's biggest club before testing their mettle against the current European champions.
Champions League drop-outs disappoint once again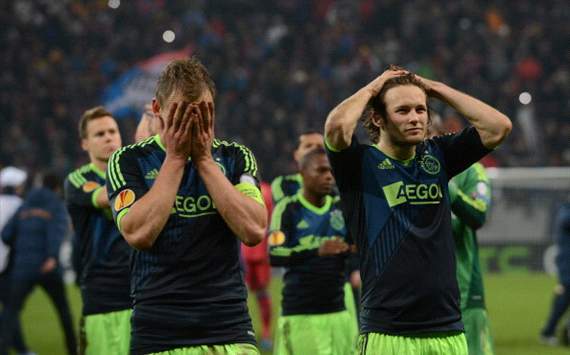 Nuisance competition, the Europa League. At least for those teams that don't want to be in it.
And for certain, among that contingent, you can count the clubs who dropped into it after the Champions League group stage. Eight clubs were washed into the Europa League drain and only three have kept their heads above water for the last 16.
Zenit St Petersburg, just barely, emerged past Liverpool. Chelsea needed a dose of last-gasp magic from Eden Hazard to eliminate Sparta Prague while Benfica, unlucky in the extreme to find themselves out of the top competition, were impressive in their win over Bayer Leverkusen. From the remainder, Olympiakos disgraced Greek football with a shoddy 4-0 aggregate defeat to Levante, BATE Borisov lost out to Basel narrowly as did Dynamo Kyiv against Bordeaux.
Ajax were victims of a phenomenal comeback against Steaua while Cluj were torn apart by Inter. The great Uefa plan of parachuting losing teams from the Champions League to the Europa League requires a rethink. As it stands, eliminated teams from the top competition are 'punished' for finishing third in their groups with the same outcome as those who topped theirs in the Europa League.
It has created an imbalance. More than half the Champions League teams, this season, didn't seem to care enough to pursue a place in the competition any further. It is demeaning for the clubs who qualified from the group stages to compete with teams who plainly see the Europa League as beneath them. The tournament itself has become unwieldy and, at times, incomprehensible. What it needs is fewer teams and a more streamlined structure.
Uefa needs to choke off the European income for those clubs who don't want to play in the Europa League. Dump two teams from the Champions League group stage straight out of Europe. On the other hand, if Uefa was to offer a place in the Champions League for the Europa League winners then priorities would quickly change.