ANALYSIS
By Ben Hayward | Spanish Football Writer
Where Lionel Messi is concerned, numbers speak louder than words. Every week the Argentina international seems to smash a new record and his two goals against Spartak Moscow on Wednesday bring him even closer to Gerd Muller's mark of 85 strikes in a calendar year.
Messi played his part in Dani Alves' brilliant opener before scuffing a second into the corner with his right and rounding the keeper for a simple finish to make it 3-0 before half-time.
In doing so, he equalled Ruud van Nistelrooy as the second-highest goalscorer in the history of the Champions League with 56 goals, behind only Raul, whose record of 14 doubles in the continental competition was surpassed.
The two goals were also the Argentine's first goals in Russia, meaning he has now scored in all 14 countries in which he has played for Barcelona in the Champions League.
Messi's staggering statistics not only put most forward players to shame, but some club sides too. Here,
Goal.com
takes a look at how Leo's 80 goals in 2012 stand up to other teams, strikers and rivals in the same calendar year.

80 -
Messi's goals for Barcelona and Argentina in 2012. He is currently five behind record-holder Muller, who netted 85 for Bayern Munich and Germany in 1972. Leo has up to nine games left to surpass Muller's mark.
80 -
Liverpool have scored 80 times so far in 2012. The Reds' big chance to overtake Messi (if he is still within sight) will come at Christmas - when Spain enjoys a winter break.


76 -
AC Milan, last season's Serie A runners-up, Champions League quarter-finalists and Coppa Italia semi-finalists, have scored only 76 times so far in 2012.
76 -
The goals scored in this summer's showpiece international tournament - Euro 2012. Messi, of course, did not take part, but will end the year with more strikes than those racked up by the 16 European nations in Poland and Ukraine.
75 -
The highest-scoring South American in a calendar year had previously been Pele, with 75 strikes in 1958. Messi is still waiting for the DVD ...
68 -
The majority of Leo's goals have come with Barca in 2012, but 12 were scored for Argentina - his most productive year by far for the
Albiceleste
. Messi, however, was unable to break Gabriel Batistuta's 1998 record as Argentina drew 0-0 with Saudi Arabia last week. One for next year perhaps.
67 -
The number of goals Miroslav Klose, the other person who is about to break a Gerd Muller record (his 68 for Germany) has scored in 11 years and eight months of international football. Messi has 31 already for Argentina, at the age of just 25.
66 -
Arjen Robben, a player once (peculiarly) compared to Messi by sections of the Spanish media, has scored 66 goals for club and country since moving to Bayern Munich in 2009 - 14 fewer than Leo has netted this year.
62 -
In the time it has taken Messi to net 80 goals, Malaga have scored just 62 times - despite finishing fourth in La Liga last season and qualifying for this term's Champions League second round already.
59 -
Cristiano Ronaldo's goals for club and country in 2012. He is some way short of his fiercest rival.
54 -
So too is Neymar.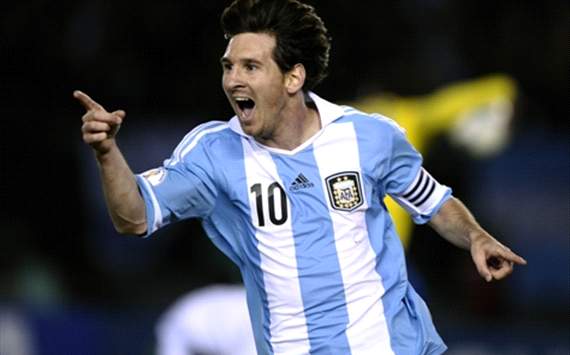 Don't cry for me | Messi is now replicating his club form at international level


51 -
Juan Roman Riquelme, former international team-mate and one-time rival to Messi for a place in the
Albiceleste
attack, needed four-and-a-half years in Spain to rack up 51 goals - a total Messi has surpassed in each of the last two seasons and is set to supersede again this term.
42 -
Messi's former team-mate Zlatan Ibrahimovic and Atletico Madrid's Radamel Falcao, considered by many to be the best striker in the world, have both netted 42 times for club and country this year.
32 -
While Leo has smashed 68 goals for Barca in 2012, the club's other forwards have managed just 32 goals between them in the same time frame. Alexis Sanchez has 10, Pedro nine, Cristian Tello seven and David Villa six. Meanwhile, Cesc Fabregas, who has been utilised in forward positions on occasions, has scored nine in the current calendar year.
13 -
Messi ended as
Pichichi
in La Liga last season, with 50 goals, outscoring every team outside the top six apart from Rayo Vallecano (53). Osasuna, Mallorca, Sevilla, Athletic Bilbao, Getafe, Real Sociedad, Betis, Espanyol, Zaragoza, Granada, Villarreal, Sporting Gijon and Racing Santander all managed fewer goals than the Argentine.
12 -
Juventus' two top scorers in 2012, Mirko Vucinic and Fabio Quagliarella, have netted just 12 apiece in all competitions since the beginning of January.
2 -
Alexandre Pato's club goals in 2012. He has none in Serie A during that time.
1 -
Messi has admitted he tried to base his game on that of fellow Argentine Pablo Aimar, but the former Valencia man is hardly prolific these days and has scored just one goal for Benfica in 2012.
Follow
Ben Hayward on