COMMENT

By Daniel Edwards | South American Football Editor
The friendship between outspoken Al Wasl coach and Argentina icon Diego Maradona and similarly outspoken Venezuela president Hugo Chavez must rank as one of the most eccentric in world football.
Both men are seemingly capable of starting an argument in an empty room, but have been on close terms ever since the legendary No. 10 sought medical treatment in Fidel Castro's Cuba. Dieguito has often been a guest of Senor Chavez in Venezuela, and in turn has praised the Bolivarian statesman in his controversial efforts to reshape the country.
Come Tuesday night, however, relations between these two men could be rather strained. As Maradona settles down to watch his beloved Boca Juniors open their Copa Libertadores campaign, Chavez will no doubt be wishing them a torrid time in their efforts to defeat a Zamora side directed by none other than his brother Adelis.
For the chief himself, the youngest of the Chavez siblings, there may also be mixed feelings going into the game. Adelis is a confirmed fanatic of 'El Pibe de Oro', just like his brother, and makes no secret of the fact.
"I am a fervent Maradona admirer," the 46-year-old president admitted to an Argentine radio station in the days leading up to this clash; but despite this affection Adelis was certain that a massive upset was not beyond reach.
"If the Vinotinto could cause a shock [in beating the Argentine seleccion], we can do it too."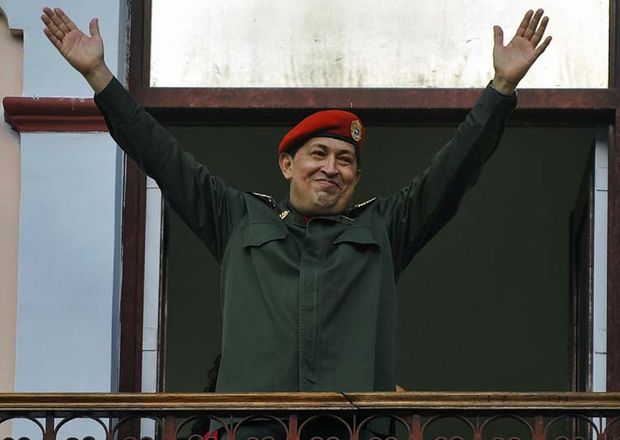 Big Brother speaks | Chavez in a typical address from his state residence in Caracas
If Zamora were to take three points from Tuesday's opponents, even on home soil, it would indeed go down as one of the biggest shocks in Copa history. Based in the western city of Barinas, close to the rich oil fields of Maracaibo, the Furia began life only in 1977, and for the vast majority of their history have been also-rans in domestic football. Primera Division football only arrived for Adelis' men in 2005, and despite an impressive maiden campaign which saw them take the runners-up place, mid-table obscurity was the norm while in the 2010 Apertura they finished a lowly 17th.
It was the following tournament, however, which was to go down in history. Zamora won 13 games out of 17, tasting defeat just once as they romped to the Clausura title in 2011, finishing three points clear of local powerhouses Caracas to lift their first ever national championship. The second half of the year brought a more prosaic eighth place, but qualification to South America's most prestigious competition had already been secured and Zamora's famously passionate fans were left dreaming of the teams to come. It is fair to say that a clash with a Boca made famous by Maradona, Rattin and the current superstar Riquelme would have been fairly high on their wishlist.
Looking over the Venezuelan side throws up a host of curiosities that make continental clashes so appetising. Aside from the presidential links, there are Zamora's passionate organised fans, who dub themselves the 'Wild donkeys' in a play on words of the traditional denomination
Barra Brava
. Boca fans will recognise a couple of friendly, and not so friendly faces. On the Zamora bench sits Oscar Gil, a coach with previous experience in the youth ranks of the Buenos Aires outfit. And in midfield, veteran playmaker Dario Figueroa, who began his career in none other than bitter rivals River Plate - and who clearly has no love lost for the Millo's traditional enemies.
"Getting a good result would be a big blow to Boca, their ego and all the fans who think they've already won"





-

Figueroa is relishing the chance to upset Boca



There is also the new, sparkling home in the Estadio Agustin Tovar, renovated for the Copa America of 2007 and aided by over $60 million of state investment; surely no more than a coincidence given the family ties between the elder and younger Chavez.
Hugo was no fan of football in his youth, preferring the local favourite baseball, whose popularity has always set Venezuela apart from its South American neighbours. The president's love for the game has grown in recent years, however, coinciding with his budding friendship with Maradona and a significant improvement in the national team historically dubbed the 'Cinderella' of the continent. Money and investment has flooded in to the national game, and Adelis is certain that his brother will be paying close attention to Tuesday's proceedings.
"He will be hanging on what happens on February 14 against Boca Juniors," he affirmed, adding that while his siblings played with bat and ball he was the one who persevered with the less popular leather sphere, and that his love for the game flourished in the same city where he now observes Zamora from the comfort of the boardroom.
Boca will start as red-hot favourites to take at least a point from Barinas, but the Venezuelans have absolutely nothing to lose in front of their own fans and will want to make a statement across the world with a shock win. If the impossible does happen, do not be surprised if the following day an exuberant Adelis fields phone calls from both his big brother and his biggest idol congratulating him for the most unlikely of victories.
Follow Daniel Edwards on