PSL
Zane Moosa: Mamelodi Sundowns will bounce back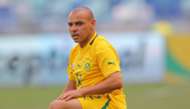 Mamelodi Sundowns' winless streak continued on Saturday afternoon following their elimination from the Nedbank Cup.
Sundowns' form has dipped considerably due to injuries and fatigue, as they attempt to contend with the congested fixture schedule.
Goal caught up with former Sundowns playmaker Zane Moosa, to hear his thoughts on his former team's recent slump.
"I don't think they (Sundowns) are playing badly, they are still dominating most of the games," Moosa told Goal.
"They are just lacking that killer instinct. They have stopped scoring now and they are struggling to get the ball into the net. Obviously, if you don't score, you don't win and that's why they've been drawing games and losing by the odd goal. If you look at the game on Saturday (against Arrows), it was a game where we know Sundowns dominate possession, but they just couldn't find the net and then they got punished," he explained.
"I think quite a few of Sundowns players, I wouldn't say they are not on song, but they seem to have lost a bit of form," Moosa added.  
"Sundowns have a big squad, and they have a lot of depth. It's hard to put your finger on it. At first I thought they were missing (Khama) Billiat because when Billiat was there, I think the last league game they won was against Platinum Stars. They've seemed to miss Billiat, but Billiat is back, he's always a player that can make a difference but he's also not at his best because he has been out. I just feel that sometimes it happens that a team goes through a rough patch but I think they can still bounce back," he continued. 
The 48-year-old also stated that despite Sundowns' lack of form, they have the ability to turn things around and go on a winning run.
"At one stage they were sitting pretty in the league with games in hands, but they've stuttered in the league in terms of gaining points," Moosa continued.
"If they had to win their games they would have been quite far up but now they are going through a bit of a slump with results. But all is not lost yet, they can still turn it around," Moosa continued.
"(Bidvest) Wits and Cape town City are ahead of them, but they are not out of it. Sundowns are a team capable of going on a run and winning five games in a row. They've done it before, but obviously, things will have to change. They are struggling to get the ball into the net at the moment," reiterated Moosa. 
The former Bafana Bafana international added that Sundowns' lack of penetration in front of goal could be due to Percy Tau's dip in form.
"I think some players are not in the form as they were. Like Percy Tau he hasn't scored for a while," Moosa said.
"He was in a rich vein of form, but before going to Bafana, he started to struggle already in terms of his form, especially in terms of his scoring. He went to Bafana and scored on 'debut' and I was hoping that would help to get his confidence and his form. He is still not at that level that we saw him a few months ago," said Moosa.
He added that they lack a proven a goalscorer and hopes to see Colombian striker Leonardo Castro be given a chance to play regularly again.
"Billiat came back and is showing traces of his ability," Moosa expressed. "Normally the guys would be scoring and there will be guys chipping in with goals because if you look at it in recent years, they haven't had an out-and-out goalscorer, who's been challenging for the top goal scorer award."
"They have players who can score from different positions. They are just not scoring and they are getting caught, like how they conceded against Chiefs with the own goal. I don't think they are playing badly it's just they are lacking that killer instinct in front of goal. Castro hasn't had that much game time. But I think he is a player who if given a chance I think, can deliver because he has shown he can score goals," Moosa said.
Nonetheless, Moosa feels it's too early to rule them out of the title race, saying their elimination from the Nedbank Cup will allow them to concentrate on the league and Caf Champions League.
"For me, it's not all lost," Moosa said. "It's obviously disappointing for Sundowns to be out of the Nedbank Cup, especially at home - it was a blow. Sundowns, like any big team, will always aspire to win as many cups as possible. So, now they will have to focus on the league and the [Caf] Champions League, but like I said, they have the ability to turn it around. It's not like they are playing badly, it's just that goals have dried up," Moosa concluded.