Australia
France coach Didier Deschamps reveals knowledge of 'aggressive' Socceroos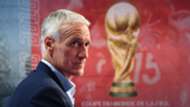 Australia may be at long odds of causing an upset when they take on France in their World Cup opener on June 16, but Didier Deschamps has clearly been doing his research on the Socceroos.
The Les Bleus coach is extra wary of a poor World Cup start after being held to a 1-1 draw with the USA in their final friendly before heading to Russia.
Not only has Deschamps noted the change of styles that Bert van Marwijk has introduced since replacing Ange Postecoglou as coach, but he is also particularly aware of Australia's attacking threats.
"They are aggressive, but with interesting attacking potential, whether it's Kruse, Rogic, Nabbout or Juric in more of a pivot role," Deschamps said.
"They're well organized but they're not happy just to defend, the new coach obviously put a lot of emphasis on the back line because they used to be very attacking, and they were caught off balance sometimes.
"But they have the players, they're not necessarily massive players, they create, they play."
Since van Marwijk has taken charge of the Socceroos, Australia has abandoned playing with a back three, a formation change that Deschamps hasn't missed. 
"Yes, they could change again but they are used to playing with three at the back, but they employed four at the back for the last two games," he said.
"And they used the same starting eleven in those two fixtures. They can play 4-4-2 or a 4-5-1."
Deschamps and French face off against Australia on June 16 in Kazan with group games against Peru and Denmark to follow.