UEFA Champions League
Why Klopp believes Liverpool are ready to make the next step and bring silverware to Anfield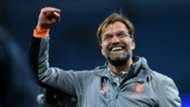 For a moment, just a moment, Jurgen Klopp allows his mind to wander.
Back to 2013, back to the Santiago Bernabeu. Back to his first Champions League semi-final. Borussia Dortmund vs Real Madrid.
The memories are fresh, even five years on. He remembers the drama, the tension, the fear, the joy, the feeling. He remembers the chances his side missed to kill the tie, the way they wobbled when Jose Mourinho's men came on strong late on. He remembers when the final whistle sounded and his side were in the final. Just.
Such experience may well come in handy on Wednesday night, when Klopp's Liverpool side take on Roma in their own semi-final second leg.
Just as Dortmund did, the Reds head into the game in the box seat. Just as Dortmund did, they carry a three-goal lead from the first leg.
Klopp, it is suggested, would perhaps prefer a quieter night this time around. Dortmund very nearly surrendered their advantage in 2013, eventually prevailing 4-3 on aggregate. Liverpool, leading 5-2 from last week's game at Anfield, will hope for a smoother passage to the final.
"I think I would take the game again!" Klopp laughs. "We played a really good game actually. I remember we were not that experienced in Champions League terms at that time and, well, winning 4-1 against Real Madrid in the first leg is a pretty good result! It was not expected for us.
"They told us immediately it will be completely different in Madrid with the atmosphere and all those things. But we pretty much killed the atmosphere at the beginning of the game.
"We had chances from one yard out; Ilkay Gundogan, Robert Lewandowski should have scored, which would've had quite an influence on the game. And then about 15-20 minutes before the end, Real scored the first one and it got quite exciting!
"Yes, I would take the result if I wanted to have the same trip again but I don't think anyone wants that! We go there actually to try and win the game, not to only lose 2-0."
Klopp is in relaxed mood as he talks through his hopes and his plans. He knows the magnitude of Wednesday's game, and what it would mean for both himself and his players if they can finish the job. He also knows that there is still work to do.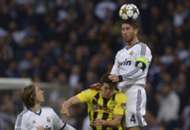 Soon, he is referring back to another European semi, this time with Liverpool in the 2016 Europa League.
"We conceded a late goal to Villarreal [in the first leg] and it didn't feel great in that moment to be honest," he remembers. "And then you saw them celebrating and I felt immediately, 'What are you celebrating? You still have to come to Anfield!'"
He was right, too. Fired up, his side won the second leg 3-0 to progress to the final. It is rare that a European knockout tie is done and dusted after the first leg.
Roma, of course, provided ample proof of that in the quarter-finals, turning around a 4-1 deficit against Barcelona. Liverpool, by contrast, have already thrown away a three-goal lead in the Champions League this season – and needed only 45 minutes to do so in Seville.
Such games are why there will be no hint of complacency in Rome. Liverpool, having led 5-0 with nine minutes to go last week, know the tie should be over, but Roma's two late away goals have altered the dynamic.
"In the first moments after the game last week, it was like Roma felt better than we did and that's crazy," Klopp remarks. "It was 5-2 but everyone was like, 'Oh, now we have to work again!' But we knew that already.
"Look, I cannot tell the boys old fairytales, like 'You have a manager that came through against Madrid so it is fine' or whatever. That does not help. We have made our own experiences in the competition and the boys did brilliantly, especially away."
Klopp believes his side have come a long way since that collapse in Seville back in November. He believes the evidence of the quarter-final, where they survived a second-leg onslaught against Manchester City, should be noted.  
"Everybody talks about the Anfield nights," he says. "Yes, outstanding. But the away performances? We have been spot on [in terms of attitude] all of the time.
"But these are things we have to prove again and again and again. Against Seville we were not mentally weak or whatever; that's football – it can happen. It's not that we gave up and it was clear they would score these goals. It was a different game and an interesting game for us.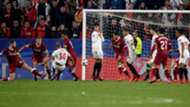 "I knew before that Seville is one of the most difficult places to go. I've never been to Rome so I cannot say too much about that but I'm sure it will be difficult as well.
"Of course, the boys are growing in these situations – that's what you need as a player. You use experience. You don't take something out of the toolbox and say, 'That's the Champions League tool,' or whatever.
"But we are more convinced about ourselves than we were before the season, that's 100 per cent. That's why we are here."
Now they are here, though, the aim is to go further. The final in Kiev beckons, the chance to put European Cup No.6 in the cabinet. Pressure, Jurgen?
"I don't think that people are interested in semi-final losers," he smiles. "The same with final losers - I could write a book about that!
"But the only way to win something is to go the whole way. In football, as in life, if you are not ready to lose you cannot win.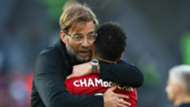 "If this team goes to the final it would be an outstanding – outstanding – achievement already. It is not the prize we want, because if you go to a final then of course you have to think a little bit bigger, but it would be something we could not have expected at the start of the season.
"We were not even qualified for the Champions League, we had to play a qualifier, and I don't know who else reached the semis having been a qualifier at the start? The boys really stepped up."
Now, they must do so once more. Liverpool's history can feel like a burden at times, but Klopp and his side have the chance to make their own. They are determined to take it.
"From the first minute I came in you are confronted straight away by it," he says. "Did you ever hear a player who just signed a new contract not say, 'I want to win silverware'? They always say that because they have to say that!
"You cannot come to Liverpool and say, 'Well, it's quite a comfortable situation so I'll have a few nice years of my career here'. We are Liverpool, so somebody kicks our ass constantly.
"It is, 'Make the next step, make the next step, make the next step'. It is not possible in this club to stand still. We need to deliver and the good news is we have now a real group of players. I really think it is difficult to improve it a lot.
"I know which players you immediately think about when you talk about how we could be better because it is always the same, but find me better ones who you know will react in certain situations. The guys on the other side of the fence always look a little bit nicer but we can be stronger.
"This team can still develop and we will bring in a few fresh legs as well because we need them if we are to be on a high level constantly.
"A lot of things are really good but players know their responsibility is to be successful. In the end, there will be a team at Liverpool at one point that wins silverware, and we all hope that we are involved in that."