Ligi kuu Bara
Manula still favorite to win win the golden glove award this season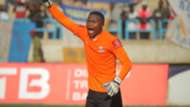 The Ligi Kuu leaders throw away 2-0 lead to draw in a 3-3 thriller, Wekundu wa Msimbazi open the scoring in the sixth minute through Ghanaian defender Asante Kwasi who raced to convert a rebound in close range following Shiza Kichuya attempting shot kept away by goalkeeper Mohamed Makaka .
Burundian striker Laudit Mavugo doubled the advantage after 16 minutes to gives the hosts a comfortable lead. However the visitors who played a fine counter attack football were able to get back on the game by pulling two quick goals scored by Tariq Seif and Aron Rwambo to make 2-2 until the half time whistle.
After the restart Simba SC increasing pressure towards the visitor's goal and they succeed to add another goal through Nicholas Gyan, that goal lasting for only six minutes before Stand United levelled with curling effort through Bigirimana Blaise.
Simba SC who were without their twin strikers Emmanuel Okwi and John Bocco remain at the top of the table five points above their arch rival Yanga who have a game in hand. 
The results of that match leaves more questions to the football spectators than answers. One among the question is who will going to seal a golden glove award this season?
Ahead of that match, the race to that award was shown clear that Tanzania One, Simba's Aishi Manula has a big chance to clinch it for the third times in row.
Hehass played in 19 games for Simba this season and concede just eight goals, in his twentieth game of the season alone he concede three goals to make it eleven. 
He stills top the list of most clean sheet with his 13 but his nearby opponents in that award are Azam FC Ghanaian shot stopper Razak Abalora and Yanga's Cameroonian Youthe Rostand who both have 11 clean sheets and concede nine goals apiece.
Manula he will be pleased with his old performances before their match against Stand United, the Shinyanga based scored with their all shots on target. He had even a match to forget after allowing Aron Lwambo to score in a direct corner kick.
This is the kind of performance which Manula do not want to remember and he even put his chance to win a golden glove award in jeopardy.