eSports
West Ham to host their first ever FIFA 19 event at the London Stadium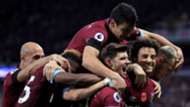 West Ham United will host their first ever esports event this weekend with the finals of the West Ham eSports Cup powered by Basset and Gold.
The tournament will be held at the Hammers' home ground of the London Stadium on Sunday, November 18 with a total prize pool of £25,000.
West Ham held open qualifiers online for UK players which has now whittled the competition down to the final 16 - eight on PlayStation 4 and eight on Xbox One.
The 16 competitors will not only be playing to prove themselves as one of the best FIFA 19 players in the UK but the winner will also take home a £10,000 prize.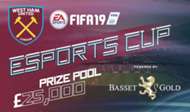 Among those players is Goal's very own Danny Taylor who placed in the top four of one of the PlayStation 4 qualifiers. Taylor won his console qualifier, taking home £1,000 in prizes before he competes for the grand prize.
Standing in Taylor's way on the PS4 is Fnatic Roma duo Damian 'Damie' Augustyniak and Simon 'Zimme' Nystedt. Meanwhile, on the other side of the bracket, Damie and Zimme are joined by their team-mate Conran 'Rannerz' Tobin on Xbox.
The other Xbox participants representing football teams and esports organisations are Epsilon's Keyyys, exceL's Painter, LOSC Lille's Luke 'Crafty' Craft and Hashtag United's Alex 'Shawrey' Shaw who defeated team-mate Harry Hesketh during qualifying.
The rest of the competitors are free agents: JR7, MHaywxrd, RUSTEM192, Kieran10x, Blatantcorn63, Reezub and EdiGaribovic, who will all be looking to make a name for themselves.
Speaking ahead of the finals, West Ham United's commercial and digital director Karim Virani said: "West Ham United were the first Premier League team to move into esports a few years ago and it continues to be an important part of our strategy moving forward.
"As part of that strategy we're hugely excited to join forces with our official esports partner Basset & Gold in this search for the UK's best FIFA 19 player."