NPFL
We won't be discouraged by Niger Tornadoes draw, says Go Round's Ogunjobi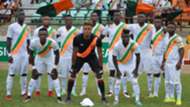 Go Round's Akinwale Ogunjobi has expressed his disappointment following their 1-1 draw with Niger Tornadoes but he assures they will not be discouraged by Sunday's stalemate.
The top-flight debutants played a 2-2 draw with Enugu Rangers in their last home tie and have hopes of returning to winning ways after Nelson Esor's first half opener against the Ikon Allah Boys.
However, Segun Alebiosu's 59th minute equaliser dashed their dreams of getting a victory as Hamza Abara's men forced them to their third home draw of the season.
And the defender admits that his side did not do enough against Minna-based outfit but assures that they will learn and move on from the setback.
"We are very disappointed about our failure to get a win against Niger Tornadoes," Ogunjobi told Goal.
"We were hoping to beat them to move away from the relegation zone but it was sad we could not see what happened.Sometimes, you aim for something big but do not work out.
"We definitely know it would not be easy against Tornadoes but we must accept the blame for not doing enough to win after we got the first goal but could not defend it.
"I think this was one of those situations. None of us was happy with the result but we won't get discouraged.
"It is a learning process for us and we must work hard to cope with the task ahead. We need to remain focused and forge ahead too."
Go Round are 18th on the log with 18 points from 15 games and would face fellow strugglers Kwara United in Ilorin on Sunday.