Videos
WATCH: These Juventus and Real Madrid fans chanted all the way to the Champions League final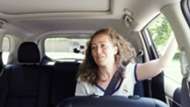 How far would you go for your club?
Long-standing UEFA Champions League sponsor Mastercard have been challenging fans to prove their support for their teams this season.
And fans from both Real Madrid and Juventus certainly demonstrated their undying love for their clubs during their pursuit for coveted UEFA Champions League final tickets.
Desperate to get to Cardiff for the show-stopping centerpiece of European football's most prestigious competition, Vanesa and Simone pledged to chant their way to the Welsh capital.
It was a bold claim, but could they do it?
Vanesa and Simone set off in high spirits and in full voice, but fatigue set in as they attempted to keep up their support for the full 90 minutes. 
They would constantly have to battle that exhaustion as every time they stopped chanting, the GPS would begin rerouting them away from their destination.
It was quite a journey.
Just how far would you go for your team? MasterCard want all UEFA Champions League fans to join the debate on social using the #MadnessOrPriceless hashtag!