Ligi kuu Bara
What can happen on the final day of the Ligi Kuu Bara season?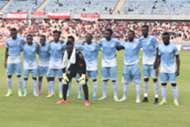 There are two major issues left to be solved in the final round of Premier League on Monday.
Yanga and Azam who will meet each other in the late fixture are hoping to claim the second place finish.
Azam currently hold the position, with a three-point advantage over Yanga.
Ndanda or Maji Maji will fill the final relegation place. With it likely to be Maji Maji, who will host League Champions Simba and they are two points and two goals worse off than Ndanda.
Ndanda who will be boosted by their last 3-0 victory over Mwadui, will host Stand United and a win will all but assure their place in the top flight next season.
Njombe Mji have already gone down and they will be at home to play Mwadui.
Azam almost over the line
Azam are in pole position to finish in second place after their fourth finish last season.
Yanga's failure to beat Ruvu Shooting at home last Friday was the setback, however, the Jangwani club still can finish second if they beat Azam because of their superior goal difference.
Maji Maji on the way out?
Maji Maji are almost certain to be playing First Division League football in 2018-19.
Ndanda's win against Mwadui means they occupy the 14th place on the table heading into the final day.
The only glimmer of hope for Maji Maji is that they face Simba at home who have nothing to lose after being named the league champions.
Full fixtures
Lipuli vs Kagera Sugar
Maji Maji vs Simba
Mbao vs Ruvu Shooting
Mtibwa Sugar vs Mbeya City
Ndanda vs Stand United
Njombe Mji vs Mwadui
Tanzania Prison vs Singida United
Young Africans vs Azam