Videos
VIDEO: Venezuela international Figuera fires home long-distance rocket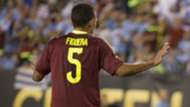 Sometimes players just aren't switched on till something goes wrong - a situation Peruvian Primera Division side Alianza Lima found themselves in after just four minutes in this weekend's clash with Universitario.
With no Lima players closing him down near the halfway line, Venezuela international midfielder Arquímedes Figuera took a couple of steps forward before blasting an absolute screamer past Leao Butron.
Check out the stunning strike in the video above - you don't stop those.