World Cup Trophy Tour 2018
VIDEO: The FIFA World Cup Trophy Tour by Coca-Cola lands in Cologne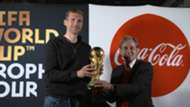 The most coveted prize in world sports returned to the country of its current holders this week as The FIFA World Cup Trophy Tour by Coca-Cola landed in Cologne.
And a couple of special guests were ready and waiting to welcome it home.
Arsenal defender, and 2014 World Cup winner, Per Mertesacker and 1990 winner Pierre Littbarski couldn't wait to get their hands back on the prize that will forever represent the height of their respective sporting achievements.
"When I touched the cup, I felt myself back on the stage when we actually received the World Cup," Littbarski said.
"It's really just an indescribable feeling."
The FIFA World Cup Trophy Tour by Coca-Cola has now clocked up 90,000 miles and over 40 cities, attracting thousands of social posts with over 1 million likes.
But it's far from finished. Next up is Norway, Finland and Iceland before taking to the skies for the South America leg of this very special tour.
For more information on the Trophy Tour head to the official FIFA World Cup Trophy Tour Instagram or Facebook page!