Powerade
VIDEO: The evolution of dribbling and control with Mario Gotze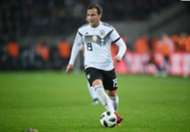 Football has evolved.
And so too, of course, have the boots.
But what if they hadn't? Could the world's top players perform to the same level without the help of modern technology?
What it there were no glove-like fitted boots designed for speed, agility and performance, featuring synthetic textiles that saw them weigh in at just 150 grams?
Germany international and World Cup-winner Mario Gotze put the theory to the test when he was handed a pair of boots from 1970's and asked to dribble his way across a considerably more
challenging playing surface than he's used to.
It posed a significantly trickier challenge but the Dortmund star's supreme skills saw him sail through the challenge.
Watch the video above to see how Powerade can help players deal with the demands of modern football.