Videos
VIDEO: Team awarded extremely dubious penalty for... completely missing the ball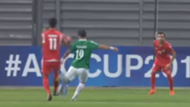 Another day, another dubious penalty decision. However, you're unlikely to see a more controversial one than this. 
Al Wihdat's Ahmad Hisham was the beneficiary of the decision as he was awarded an extremely debateable penalty, presumably after contact with Muharraq's Ismaeel Abdulatif, during their 1-1 AFC Cup draw.
The 23-year-old striker was trying to volley the ball from inside the box and, while initially it might seem that he makes contact with his opponent, replays show that in fact he didn't and simply completely missed the ball.
As if accepting the spot-kick was bad enough, the forward had the cheek to then roll around on the floor and act as if he was in severe pain.
Watch the video above and decide for yourself...