Celtic
VIDEO: Celtic starlet Dembele latest to take on freestyler Touzani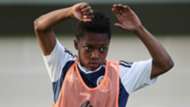 Freestyle footballer Soufiane Touzani has tested his skills against some of the best players in world football, but how does he fare against one of the most talked about young footballers in Europe?
Fifteen-year-old Karamoko Dembele came upon the scene two years ago when he made a number of appearances for the Hoops' U20 side at the age of just 13.
He's a regular for the club's U17 side and many are expecting him to have a huge future in the game, so how do his skills compare to Touzani's?
The freestyler has taken on the likes of Cristiano Ronaldo, Sergio Ramos and flashed his skills against the youth sides of Paris Saint-Germain, Chelsea and Feyenoord.
Watch the clip below!
You can watch more videos like this on his own channel, Touzani TV.