Africa Cup of Nations Qualification
Victor Wanyama was impressed by fans turn out as Kenya forced Ethiopia to a draw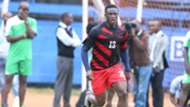 Victor Wanyama has admitted that he was overwhelmed with the turn out of fans as Kenya battled Ethiopia in an Afcon qualifier on Wednesday.
Kenya managed to get a point after battling for a barren draw. But one thing that caught the eyes of many was the turnout at Bahir Dar Stadium, where approximately 135, 000 fans turned out to cheer the home team.
Wanyama says the turnout was amazing, "I have never seen such a crowd! Even in Europe, the population in the stadium is about seventy to 90 thousand, I have never seen a crowd like that.
"Bahir is a tough place to get a point from, but at the end of the day, we got something. Our tactics worked and it is a positive and huge step towards qualification to the Afcon."
The outcome means Stars have now amassed four points having beaten Ghana last month and a win in the return leg will increase their chances of making it to the Afcon finals for the first time since 2004.
Kenya will host the Walya Antelopes in the return leg at Kasarani Stadium on Sunday.